Manage Microsoft Teams App Permissions
App Request, Lifecycle and Reporting of Microsoft Teams Apps and In-house AppStore
Become Early Adopter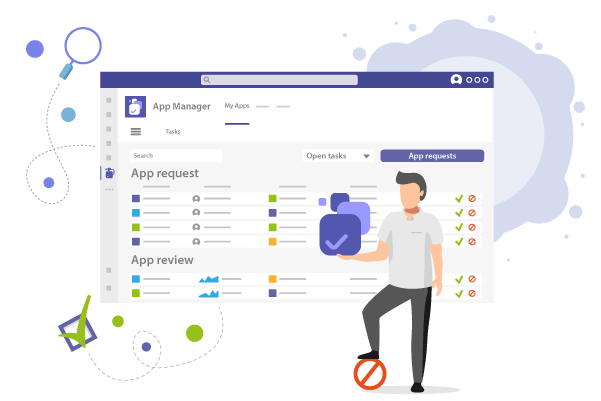 Manage permissions of your Microsoft Teams apps
Microsoft Teams App Request & Approval
The company's own AppStore can offer apps that require an app request. The app request contains predefined queries that are required for the validation. In the tasks, the teams owner/admin can view the app requests and confirm or reject them.
Metadata – reason, usage, compliance, etc.
Confirmation of Guidelines – from vendor and internal guidelines
Training materials directly from the company
etc.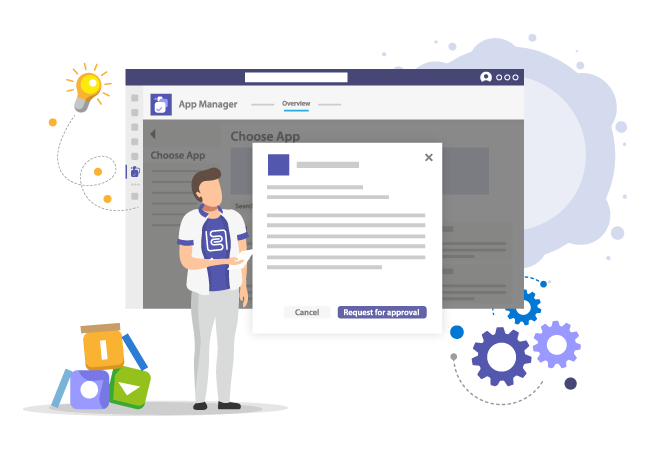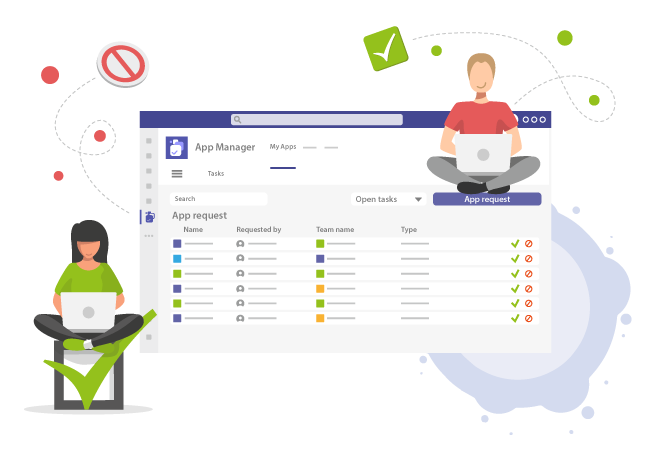 Internal AppStore in Microsoft Teams
App Manager allows you to create a custom AppStore entirely according to your requirements. Determine which apps are highlighted, how they are sorted into categories, or what information is provided.
Restricting the AppStore with app request
Own (recommended) categories
Own content – descriptions, compliance, guidelines, training material, price, etc.
Individual look & feel of the AppStore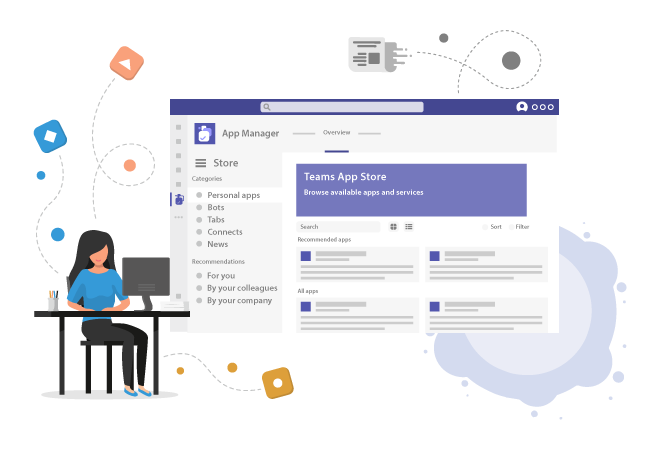 Teams Apps Lifecycle & Reporting
Keep track and minimize external app access with lifecycles and reporting. Define lifecycles for your apps in advance to be alerted in your task list when reviews are needed. Reporting tells you which teams and how many users are using the app, whether the latest version is installed, how it's trending, etc..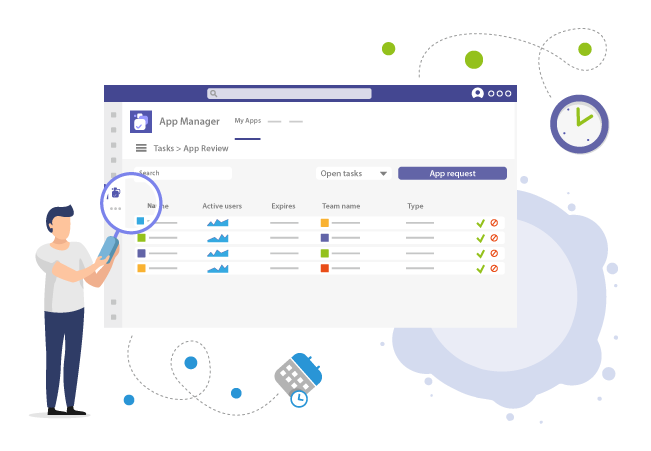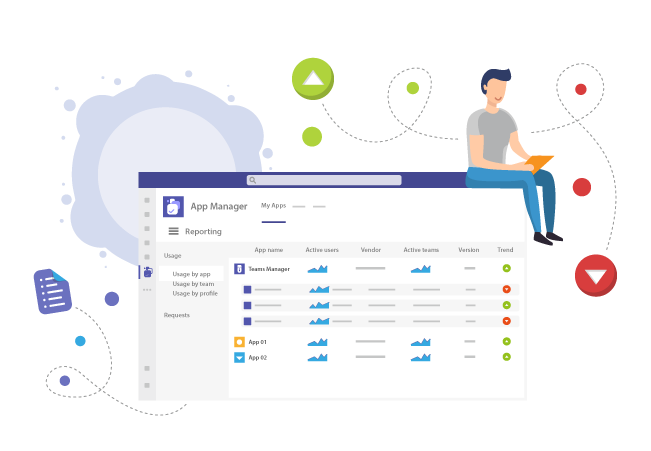 Dashboard for Users
On the home page, your users can view all the apps they use and arrange, sort, filter and favorite them as they wish using drag & drop. In addition, it is possible to permanently integrate your own apps into the dashboard. From the dashboard, the user can easily access the AppStore and start an app request.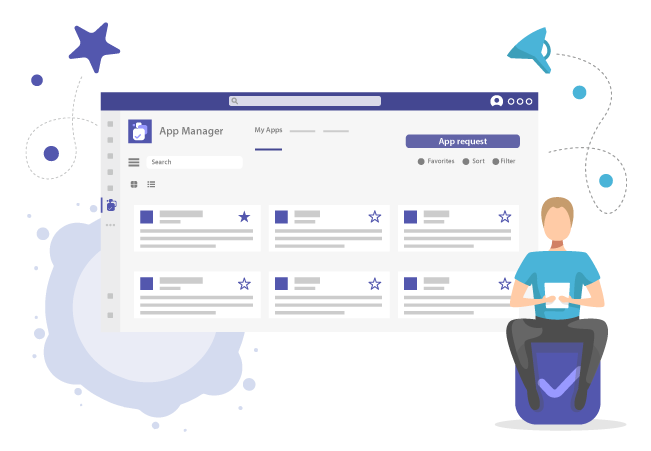 BECOME AN EARLY ADOPTER
We offer you the cost-free opportunity to test App Manager for Microsoft Teams before release and provide us with your user feedback. Register now for our Early Adopter Program and benefit from exclusive access and discounts!
Apply now
App Request & Approval
| | |
| --- | --- |
| | App Manager |
| Request for teams | |
| Request for personal / chat apps | |
| Required metadata | |
| Confirmation of guidelines | |
| Training materials / documents | |
| App requests as tasks | |
| Approval by team owner / admin | |
In-house AppStore
| | |
| --- | --- |
| | App Manager |
| Enterprise apps | |
| Apps from AppStore | |
| Restriction with app request | |
| Categories | |
| Recommended categories | |
| App descriptions | |
| Icons | |
| Compliance information | |
| Usage | |
| Guidelines | |
| Training materials | |
| Vendor information | |
| Price (optional) | |
| Individual look & feel | |
| Individual color scheme | |
App Review
| | |
| --- | --- |
| | App Manager |
| App lifecycle | |
| App review tasks | |
Reporting
| | |
| --- | --- |
| | App Manager |
| Use in teams | |
| Number of users | |
| Date of installation | |
| Version | |
| Trend | |
Dashboard
| | |
| --- | --- |
| | App Manager |
| My Apps – Overview | |
| Drag&Drop arrangement | |
| Favorites | |
| Tile view | |
| List view | |
| Filtering | |
| Sorting | |
| Training materials | |
| Company own materials | |
Settings
| | |
| --- | --- |
| | App Manager |
| Installation | |
| Available apps | |
| Permit approver groups | |
| Notifications | |
| API | |
| Dynamic groups | |
| Apps | |
| Permission policies | |
| Lifecycles | |
| Policies | |
More about Microsoft Teams Governance