The Professional Meeting Solution
Manage meetings in SharePoint On-Premises with serial appointments, agenda and protocol.
Book A Demo
How can you
increase productivity?
Increase productivity and efficiency for all of your meetings. Meeting Manager supports you along the whole process, starting with the invitation of attendees, storing all relevant information at a single central location and sharing the results automatically at the end of each meeting. Why should you use Meeting Manager? Maybe you can remember the old SharePoint template "Meeting Workspace" – well, it does no longer exist. We offer not just a replacement, we offer you an overall solution!
What does a typical meeting look like?
Prepare - A meeting is required, find timeslot, invite attendees, book resources

The preparation includes e.g.

creating a meeting title, finding a timeslot for all attendees, booking resources such as meeting room and beamer, setting an agenda, sending the invitation (either required and/or optional)

Meet - Lots of coffee, people meet, decisions made, tasks assigned, analog and digital content created

In the meeting itself you will have

...content being presented, likely a flipchart or digital. To keep track of it, you will need to take a digital photo or exchange the presentation file.
...decisions being made. Later on other people will reference and rely on these.
...tasks being assigned. The challenge is keeping track of them as tasks need to be completed at some stage.
...spoken content, recorded in an analog notebook or even better into a digital notebook like OneNote and now Meeting Manager.

Wrap-up - Send summary to all attendees, monitor tasks and follow up on decisions

After the meeting has ended, the meeting content is shared, mostly by email, probably by multiple people. With Meeting Manager this is just a single click.
The problem with the example above is, information is redundant, the process is inefficient, and it is difficult to follow up on tasks and decisions.
Solutions2Share has the optimal solution for managing meetings efficiently!
We integrate into your existing environment while adding additional functionality so that your business can concentrate on the meeting and not struggle with coordination and follow-up.
Serial Appointments
Easily create serial appointments with all important information, define roles such as recorder and the person running the meeting as well as the storage location for appointment-related documents.
Invite external users to your meeting and manage and track the status of your participants with the Meeting Manager.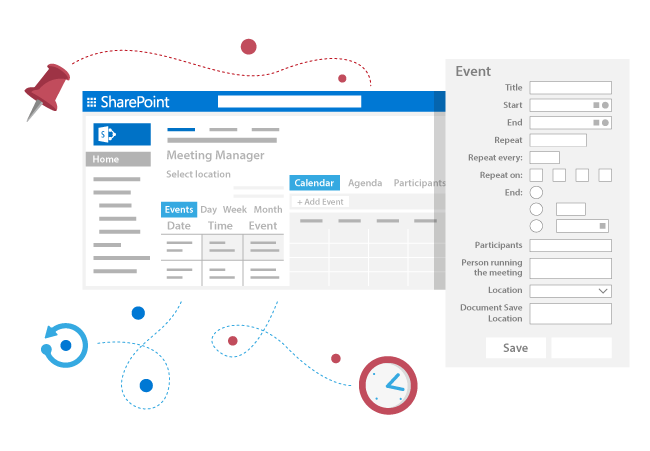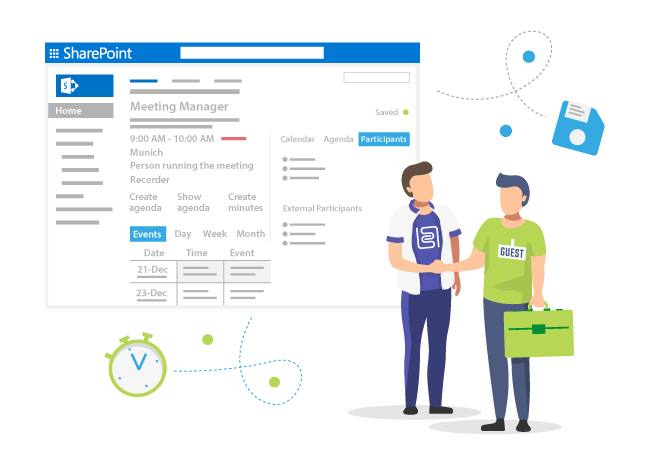 Agenda
Create a structured, predefined agenda with all relevant documents, notes, decisions, and tasks at a glance.
Automatically take unfinished tasks to the next appointment and guarantee an efficient workflow.
Create a unique meeting workspace and customize its layout to suit your needs.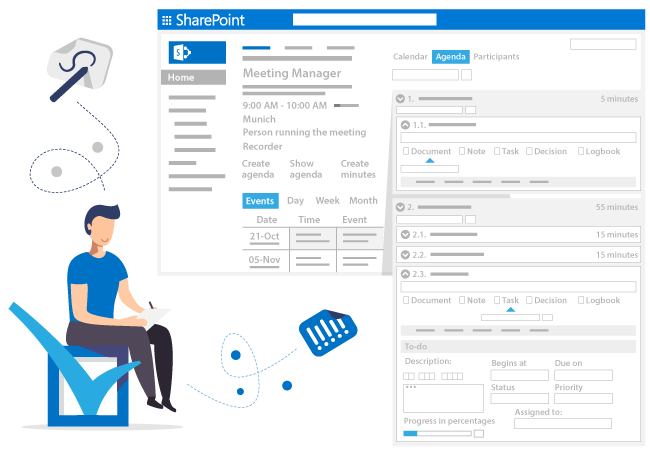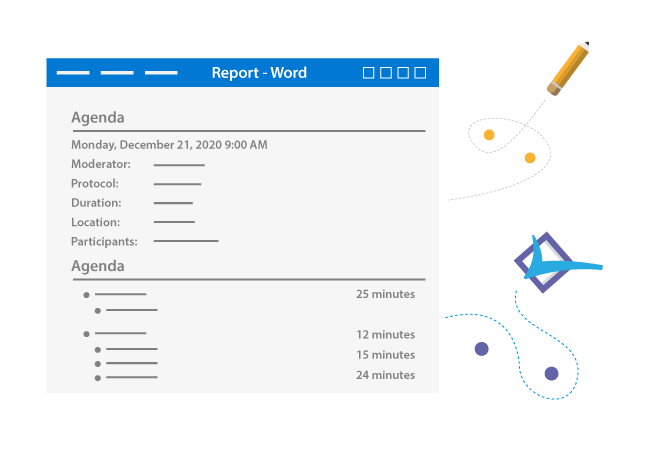 Protocol
Collaborate on your meeting protocols with our co-authoring feature, which automatically pushes every change to every user without ever refreshing the page.
Meeting Manager automatically sends ICS invitations and then sends an automatically generated minutes of the meeting to all participants according to your needs.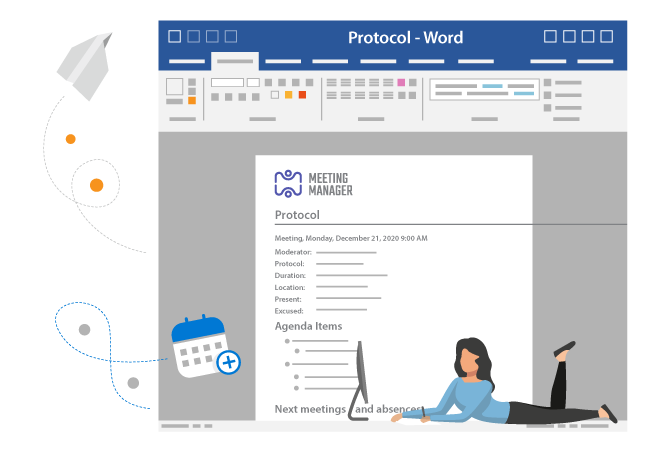 | | |
| --- | --- |
| Manage meetings | Meeting Manager |
| Create a meeting workspace within seconds (Self-service) | |
| A single place for all your meetings | |
| Easy creation of an agenda | |
| Structured agenda | |
|   Tasks | |
|   Documents | |
|   Notes | |
|   Decisions | |
| Invite external users | |
| Co-author functionality | |
| | |
| --- | --- |
| Integration | Meeting Manager |
| Integrates in Outlook (add-in), create a meeting in the familiar Outlook environment with all the features. | |
|   Free/busy times | |
|   Invitations | |
| Supports other SharePoint Apps (e.g. integrate with Solutions2Share Collaboration Manager) (optional) | |
| | |
| --- | --- |
| Information | Meeting Manager |
| Tracking status visible to everyone (Meeting invitation status) | |
|   Accepted | |
|   Tentative | |
|   Declined | |
| Documented decisions | |
| Automatically create a meeting report at the end of the meeting | |
| | |
| --- | --- |
| Usability | Meeting Manager |
| One-click installation using the SharePoint Store (App file) | |
| Assign documents via drag and drop | |
| Make your meeting workspace unique – customize the layout | |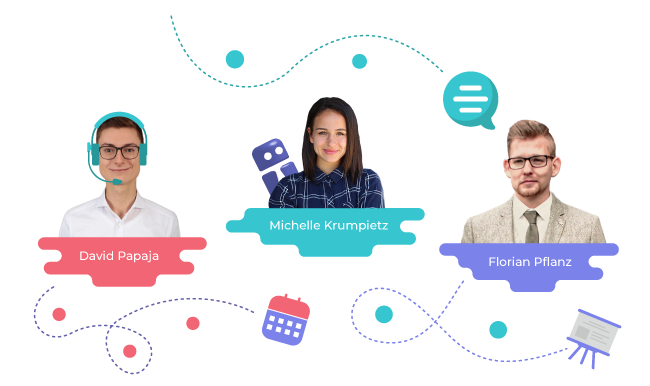 Understanding your requirements and objectives is important to us. We listen and work together to set you up with the best tool for managing meetings in SharePoint On-Premises efficiently.
Still questions? Let's get in touch!
For any questions please do not hesitate to send us an email, contact us at our head office by phone or use our contact form.