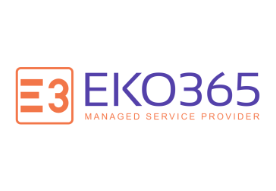 This is our partner Eko365
Eko365 is a Managed Service Provider focused on making it safe and efficient for Small and Medium Enterprises to use Microsoft 365 services. If you are looking for effective solutions for managing your data, Microsoft 365 may be the answer you are looking for.
However, figuring out how to best use this suite of services can be complicated. That's why Eko365 offer personalized consulting on Microsoft 365 to help you take full advantage of its tools for collaboration, data security, and productivity.
"Eko365 Managed Microsoft 365 solution ensures your entire organization receives a comprehensive and seamless Microsoft 365 experience. With industry-leading migration and support, our experts will customize Microsoft 365 to your unique environment and architect the best solution for your business. With our Zero Trust Tenant Protect Support, we can manage and configure the best security policies to maximize your defenses against cyberthreats and data loss."