Home » Microsoft Teams Governance
Microsoft Teams Governance
The best Tips and Tools, helpful Articles and Video Tutorials for your Microsoft Teams Governance
No more uncontrolled growth in Microsoft Teams! You want to keep your Microsoft Teams structured and secure? We show you how to best implement MS Teams Governance!
Everything for your Microsoft Teams Governance
1 – What is MS Teams Governance, and why should I implement it?
Microsoft Teams Governance means a collection of settings to ensure security and structure for your MS Teams environment. Teams has many interfaces with external third parties: guest users, apps from third-party providers, meetings with externals, and many more. With its features centering around user-created workspaces like teams or channels and user-created content like posts or documents, the potential for uncontrolled growth should not be underestimated.
Our recommendation is to have a governance strategy ready before implementing MS Teams.
In short: If your organization uses Microsoft Teams, you do need to think about MS Teams governance.
2 – Tools for Microsoft Teams Governance
Microsoft Teams Governance made simple. Keep control of your Microsoft Teams environment with these tools.
Approval Workflow, Lifecycle, Naming Conventions, Metadata and Templates for your Microsoft Teams Governance
Discover Teams Manager
3 – Teams Governance Helpful Articles, Best Practices and more
Here you can find the latest blogposts for Microsoft Teams Governance. Visit our blog for more helpful articles!
4 – Video-Tutorials for Microsoft Teams Governance
Filter by product and discover video tutorials that can help you with your MS Teams Governance.
5 – Microsoft Teams Governance Case Studies
Ever wanted to know how to structure Microsoft Teams with our Solutions2Share solutions? Check out our case studies now and see for yourself!
6 – Online-courses and Workshops for Microsoft Teams Governance
Learn from the governance market leader how governance works for Microsoft 365. We offer online courses and workshops.
7 – Teams Governance Frequently Asked Questions (FAQ)
Here you will find the most frequently asked questions about MS Teams Governance.
What are the possibilities for Teams Governance?
Microsoft offers several options for Teams Governance out of the box. For example, retention policies can be used to control how long M365 groups exist before they are archived. It's also possible to control which apps users are allowed to use.
However, who is allowed to create a team or not, or whether guests are allowed in a team or not, can only be controlled via PowerShell, Sensitivity Labels or third-party providers.
Is there a checklist for MS Teams governance?
Each organization is unique and has individual needs, which is why a standardized governance checklist, or a Microsoft Teams governance document for that matter, would be too general in most cases. If you would like some help to get started, we can gladly help you prepare a governance strategy for your use case.
Is governance teams-relevant only? 
Definitely not. Wherever you use a tool that interacts with externals or third-parties, or as soon as you have user-generated content, you need to think about governance guidelines for security and structure.
Is there a specific Microsoft Teams governance software? 
There are a number of companies offering Microsoft Teams governance software. Among them, Solutions2Share is the biggest app developer for specialized MS Teams governance apps. You can find our governance apps in the Teams app store: Teams Manager for keeping control of the creating and structure of teams and channels, External User Manager for integrating external guests safely into your environment, and File Manager for a better overview over your files in MS Teams.
What are some Microsoft Teams governance examples? 
One of the best MS Teams governance example is to think about lifecycles: how long do you want a team to exist? What should happen if it is no longer used? How long should external users have access? Should there be a time limit for the use of third-party apps, which often have full access to your data?
What should a comprehensive Microsoft Teams governance policy include? 
That depends a lot on your organization and use case. Basically speaking, your MS Teams governance policy should include a way to control the creation of and templates for new teams, lifecycles to prevent sprawl, naming conventions for more structure, sensitivity labels for more security, a decision on guest access vs. external access and rules for the use of third-party apps.
How do I restrict the creation of teams?
Restricting the creation of Teams is one of the most common requirements for a Microsoft Teams governance approach, but it can only be done with a PowerShell script. Here's how to do it:
https://www.solutions2share.com/microsoft-teams-how-to-disable-teams-creation/
CAUTION! This script restricts the basic ability to create other M365 groups. Like for example a SharePoint Teams site needs them.
What do I need to know about Teams templates?
The most commonly used template types in Microsoft Teams are DepartmentTeams, ProjectTeams, CollaborationTeams, and TestTeams.
Folder structures cannot be predefined by default in Teams templates. Also, it is not possible to provide predefined OneNotes or Planner tasks in a Teams template. This requires the use of a third-party application such as Teams Manager.
Teams templates can be created in the Teams Admin Center. For this you need Teams Admin rights. For detailed Teams templates we recommend the Teams Manager.
Want to start with Microsoft Teams
Governance? Book a demo!
Do you have any questions concerning Microsoft Teams Governance? We would like to answer all your questions and show you possibilities in Microsoft Teams for your Teams Governance.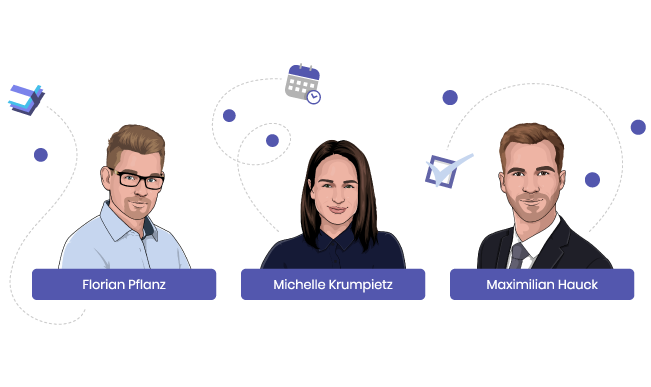 Book A Demo