Maintain control over your data by easily managing external users in Microsoft Teams.
External User Management for Microsoft Teams
Delegate responsibility directly to your team owners and control access in the background with detailed reports.
Use our approval workflow and let users submit requests for guest access.
Prevent sprawl in your system by restricting access time and controlling activity levels and remove external users automatically from the system.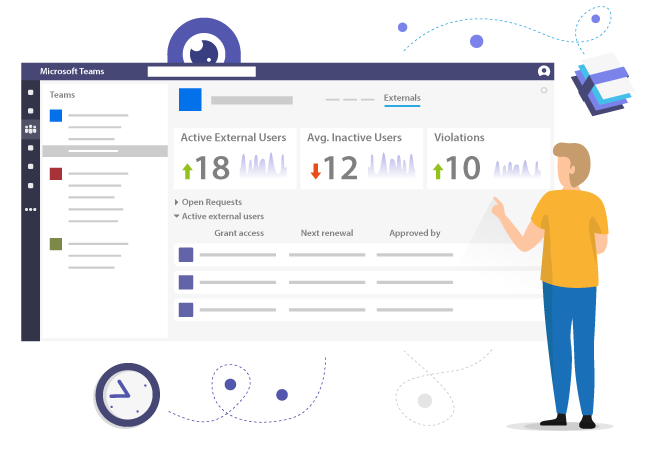 | | |
| --- | --- |
| Governance automation | External User Manager |
| User request | |
| Approval workflow | |
| Metadata | |
|   Custom user metadata fields | |
|   External user types (partner, customer, supplier, competitor) | |
| Policies | |
|   Naming convention | |
|   Retention policies | |
|   Classifications | |
| Lifecycle management | |
|   based on time | |
|   based on triggers | |
|     Metadata information | |
|     Inactive user | |
| Access Rules | |
|   Channel permission rules | |
|   Teams permission rules | |
|   Folder/File Permission rules | |
| Adoption governance | |
|   Onboarding Portal | |
|     LMS | |
|     Certificates | |
|     Teams adoption rule concept | |
|     Teams before onboarding | |
|     DSGVO / NDA / Enduser accept | |
| | |
| --- | --- |
| Compliance | External User Manager |
| Access Control | |
|   External user permission overview | |
|   External user access history | |
| Rules Control | |
|   End user agreement check and history | |
|   NDA check and history | |
|   GDPR check and history | |
| | |
| --- | --- |
| Team Owner Information | External User Manager |
| External user overview | |
| Permission overview | |
| Access history | |
| Access requests | |
| Violation overview | |
| Access review overview | |
| | |
| --- | --- |
| Security | External User Manager |
| Privacy (public and private external user) | |
| Classifications | |
| Guest access (on/off) | |
| Access review process | |
| Violation overview | |
| | |
| --- | --- |
| Bot | External User Manager |
| Lifecycle notification | |
| Existing external user structuring bot | |
| Access review notification | |
| Document signing notification | |
| Violation notification | |
| | |
| --- | --- |
| Reporting | External User Manager |
| Inactive user | |
| Active user | |
| Violations | |
| Access review report | |
| Compliance report | |
| Permission overview and history | |
| | |
| --- | --- |
| Usability | External User Manager |
| Employee training solution | |
| Documentation | |