Microsoft Teams Project Management: Successfully control and manage projects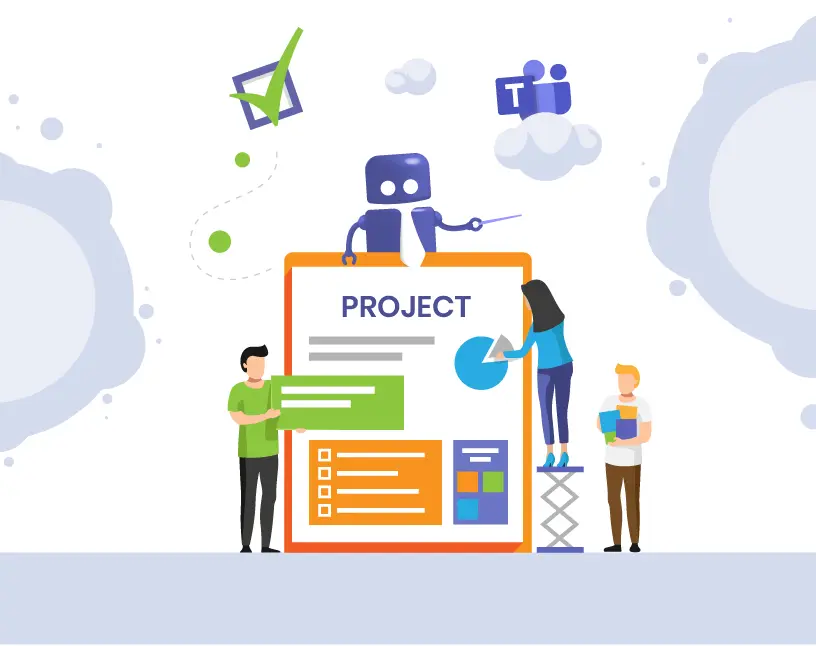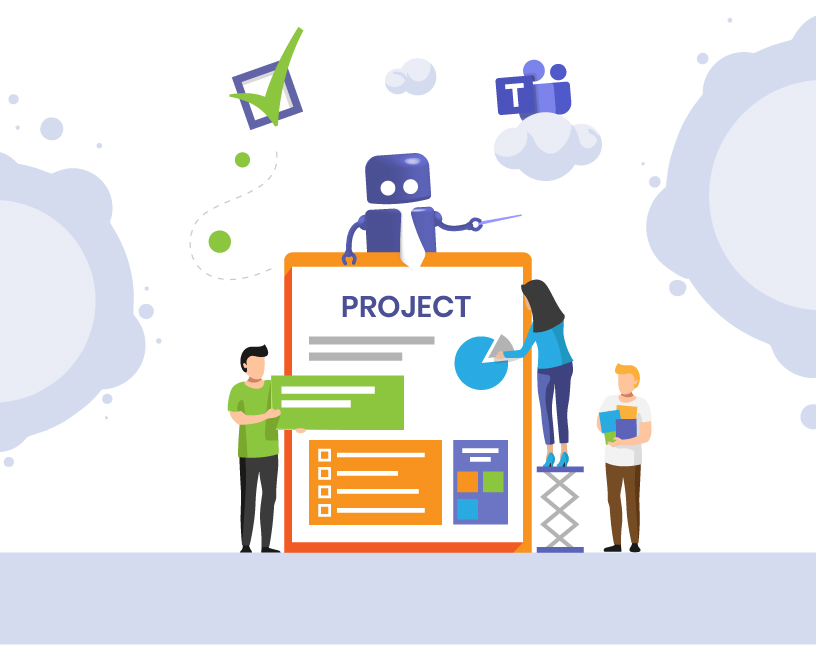 In the constantly evolving world of business, project management has become a critical component to the success of companies in all industries. As professionals, we're constantly looking for ways to improve our project management skills and leverage technology to maximize efficiency. That's where Microsoft Teams comes in, a powerful, unified platform for streamlining project management and collaboration.
In this in-depth blog article, we'll dive deep into project management and focus specifically on how Microsoft Teams can transform the way you manage projects. We'll explore the key features and benefits of using Microsoft Teams for project management, including improved collaboration, support for agile project management, and easy-to-use tools for smaller teams. We also discuss the competitive advantages and efficiency gains of Microsoft Teams compared to traditional project management tools and methods.
This blog article is intended to provide you with a comprehensive understanding of the project management principles and unique capabilities of Microsoft Teams, and how you can leverage the platform's features to make your projects a success. Whether you're an experienced project manager or a newcomer to the field, this guide will provide you with valuable insights and practical tips to improve your project management skills and empower your team to achieve their goals.
Contents
Why project management with MS Teams?
The advantages of MS Teams for project management at a glance
Which projects can Microsoft Teams help with?
Integrate Microsoft Teams in project management: Tools, Apps and Software
Functions and the use of MS Teams for project management
Set up and organize Microsoft Teams for project management
Success factors in project management: best practices and practical experience with Teams
Case Study: GEBRÜDER PETERS Gebäudetechnik AG
The essentials for successful project management with MS Teams
FAQ about project management in Microsoft Teams
Why project management with MS Teams?
The importance of project management
Project management is crucial to the success of projects. To name just a few benefits, project management is about clearly defining goals, efficiently allocating resources, and fostering communication and collaboration within and outside the project team. It also helps to minimize risks, manage time and costs, maintain quality, and adapt to changing conditions.
Effective project management ensures the successful completion of projects, continuous improvement through constant learning processes and, last but not least, a competitive advantage for the company.
Necessity of project management tools
Microsoft Teams is already a comprehensive tool for organizing team collaboration and therefore also covers the basic functions for project management. However, for complex projects or special requirements and processes, there are numerous tools that can support collaboration even better.
Optimize your Microsoft Teams project management with Teams Manager. With its ability to set up, manage and organize your team structures, it makes project coordination a breeze.

Success factors for project management with Microsoft Teams
How do you lead a project to success? What factors are necessary in project management with Microsoft Teams to achieve the project goals?
realistic planing
measurable goals
Clear breakdown of roles and tasks
qualified employees and project managers
regular review of the specifications
good communication
The central factor is realistic planning, in which a clear definition of measurable goals and the clear distribution of roles and tasks are clearly in the foreground. The "SMART" formula should always apply to goals, i.e. goals should be formulated specifically, measurably, attractively, realistically and with a deadline. Time planning in particular must be unadorned and realistic, otherwise there is a high risk of delays due to interdependencies between the individual project components.
The first step for the project team is to select a team leader and employees with the required competencies. These must also be given the necessary time and space for the project.
A delicate hand is required for project management. Micro-management should be avoided, as should a laissez-faire attitude. A constant, regular review of goals, tasks and milestones can identify any hurdles at an early stage. Especially for projects that run over a longer period of time, a constant review of the requirements is also useful. Do the definitions and goals that were made months ago still apply, or should they be adapted to new circumstances?
Finally, every project stands and falls with communication. It must be ensured that all project members are always up to date and have all the information they need for their work. Documents should always be kept up to date. The communication of the project outside the project team, e.g. to stakeholders, also plays an important role.
Microsoft Teams as a project management solution
As a communication and collaboration platform, Microsoft Teams offers excellent conditions for project management.
Even on its own, MS Teams covers the requirements for smaller projects well. The most important functions, such as sharing files and chat to coordinate the project team, are natively covered.
For more complex projects, additional specialized project management tools for task distribution, scheduling and time tracking, such as Microsoft Planner, Microsoft Project, Asana, Monday, Clickup etc. can be used.
The integration of SharePoint and OneDrive also facilitates the consolidation of information and project files within Microsoft Teams.
In addition, Microsoft Teams already plays a central role in many companies and users are experienced in using it. Adoption hurdles are therefore significantly lower here than with other, newly introduced project management solutions.
Collaborating with external contributors is no longer a problem thanks to External User Manager. Seamlessly manage access permissions, keep track of external contributors, and ensure the right people have the right access at the right time. With External User Manager, you can say goodbye to the risks and worries of external collaboration in your project management.


The advantages of MS Teams for project management at a glance
| | |
| --- | --- |
| The advantages of MS Teams for project management | Details |
| Enhanced collaboration | Combined file sharing, chat, meetings and other communication tools in one central platform |
| Agile project management support | Agile methodologies such as Scrum and Kanban and integration with tools such as Planner and Microsoft Project |
| Usability for smaller teams | Intuitive user interface and customizable features to help smaller teams get started |
| Integration with Microsoft | Seamless integration with other Microsoft apps such as Office 365, SharePoint, OneDrive and Power BI. |
| Customizable and expandable | A wide range of customizable features and settings, plus the ability to integrate third-party applications. |
| Secure communication and data storage | Security features such as end-to-end encryption, multi-factor authentication, and advanced data protection |
| Cross-platform compatibility | Available on multiple devices and operating systems (Windows, macOS, iOS and Android) |
| Real-time co-authoring and editing | Collaboratively create and edit documents, spreadsheets, and presentations in real time |
Which projects can Microsoft Teams help with?
Small projects with low complexity and no scheduling can be managed practically exclusively via Microsoft Teams. The integrated solutions for task management and file storage are sufficient here in most cases.
For medium-sized projects with scheduling, Teams is a good starting point. Depending on the complexity, it is recommended to integrate additional tools for project management here.
Larger projects with scheduling and resource planning and a high level of complexity should not be managed via Microsoft Teams alone. The risk of losing the overview would be too high. Instead, additional apps should be used for task distribution and time management, or other tools depending on the requirements.
Depending on the number of projects, it can make sense to use a tool for the automated provisioning of project rooms and thus save project managers or IT admins a lot of time when setting up new project rooms. With Teams Manager, templates can be customized down to the smallest detail – from channels and tabs to planners with predefined buckets and already created tasks to ready-made folder structures and stored files.

Integrate Microsoft Teams in project management: Tools, Apps and Software
Getting started with integrating Microsoft Teams into your organization's project management
Depending on the type and scope of your projects, the integration of Microsoft Teams into your project management should be well planned. It is useful in any case!
Integrating Microsoft Teams into your organization's project management starts with understanding your organization's needs. Identify the types of projects your team is working on, the type of communication and collaboration that is required, and how Microsoft Teams can facilitate this process.
Next, set up Microsoft Teams accounts for all team members. If your company already has a Microsoft 365 subscription, you have access to Teams. Once the accounts are set up, organize your team by creating "Teams" and "Channels" within Microsoft Teams. Teams can be divided by projects, departments or other areas relevant to your business, while Channels can be created for specific topics or tasks. This way, discussions stay focused and organized.
Equally important is training your employees. To get the most out of Microsoft Teams, all members need to understand the functionality. Provide the necessary training that covers key features, such as how to create and join teams, participate in channels, and share files.
Developing best practices is an important step in integrating a new tool. Establish norms for when to use chat and when to use email, file organization, mentions, and so on. This will give you a clear structure for using Microsoft Teams.
Set clear communication guidelines to avoid confusion. Determine how and when to use Microsoft Teams.
Finally, monitor and control how Microsoft Teams is used in your organization. Get feedback from your team, identify issues, and adjust usage accordingly. Remember that integrating a new tool into your project management workflow requires careful planning, training and communication. It may take some time for everyone to become familiar with Microsoft Teams, but with patience and proper guidance, it can greatly improve the efficiency of your project management.
Bring clarity and structure to your project planning process with MindMap. Visualize your project schedule, allocate resources effectively, and monitor project progress in real time. With MindMap, your team can turn complex projects into manageable, easy-to-understand visual plans.
How do I find the right PM app and software for my organization?
With so many project management apps on the market, it's not easy to find the right one for your company. No one has the time to test all these tools individually!
First, make a list of your requirements and budget and prioritize which features are most important to you. On this basis, you will already find out which project management tools will be shortlisted.
For these apps, you can then read testimonials from customers (ideally from your industry or a similar one) and get a trial or demo before you finally make a decision.
Our File Manager solution puts an end to document management chaos in Microsoft Teams. Track, organize and control all your project-related files in one central location. With File Manager, you can ensure that the right documents are routed to the right team members without the risk of them getting lost in a sea of data.

Functions and the use of MS Teams for project management
Typical use cases for Microsoft Teams
Microsoft Teams is a versatile platform that can be used in various project management scenarios, e.g:
Software development projects: Developers can create different channels for different parts of the project, such as a "front-end development" channel, a "back-end development" channel, or a "bug reports" channel. For example, in the "Bug Reports" channel, team members can post any bugs they find. With Teams integration in Microsoft Azure DevOps, a ticket can be automatically created in Azure, and updates to the ticket status are posted back to the Teams channel. This way, the entire team stays up to date on the status of the bug without having to leave Teams.
Managing marketing campaigns: You can create a channel specifically for the campaign and use it to schedule and coordinate tasks. For example, in a product launch campaign, you can hold discussions, store files, manage schedules and deadlines, and even hold meetings in one place. The Planner tab of Teams lets you create, assign, and track tasks related to the campaign. You can also integrate Teams with marketing automation tools to track campaign progress and results.
Product launches: for product launches, teams can be used to coordinate between all departments involved – design, marketing, sales, customer support, etc. – can be used. For example, the "product design" channel can be used to share and discuss product designs and prototypes, the "marketing and sales" channel can be used to plan marketing strategies and sales targets, and the "customer support" channel can be used to prepare FAQs and support materials. Teams can also be used for product launch meetings and presentations where you can share your screen, give a presentation, and even record the session for later use.
Event planning and management: when you plan and manage an event, Teams lets you create a dedicated team for the event. Here you can discuss event details, plan logistics, assign tasks, and track progress. For example, if you're planning a company-wide seminar, you can set up different channels in the team for different aspects of the event – "venue and logistics," "speakers," "agenda," and "promotions." You can also use teams to host the event virtually if needed, or stream it for those who can't attend in person.
Remote team collaboration: for a remote team, you can set up channels for different departments or projects. For example, if your company is working on a new website redesign and all employees are working from home, you can set up a "Website redesign" channel. In this channel, you can discuss ideas, share drafts, collaborate on documents in real time, and hold video conferences. This ensures that everyone is on the same page, no matter where they are.
Experience a new standard of document control in Microsoft Teams with File Manager, your all-in-one solution to keep your project files organized, accessible and under control.
Set up and organize Microsoft Teams for project management
Create a new team as a project space: a new team should be created for each new project. This makes it easier for project members to keep track of everything. In addition, it is easier to archive the complete content after the project has been completed. Note: for consistent, well-structured project spaces, you should define a standardized channel and folder structure in advance. Also, for recurring tasks, documents and OneNotes, you should save the manual effort of creating them.
Create channels for different aspects of the project: create channels for different aspects of the project: in addition to the default "General" channel, you can now create additional private or shared channels for different aspects of the project – e.g. for different project phases or project areas. For channels, it also makes sense to define a standardized channel structure in advance for projects that run similarly and always use it identically to make it easier for employees to find their way around.
Add team members: next, add the project members to the team. It is best to add several members at once to save time. Also, teams can be used to invite external people to work on the project – just enter the email address for them. Tip: edit the name of the guests so that an ominous email abbreviation is not displayed instead.
Assigne tasks to project members: Before you can create and assign tasks to your project members, you first need a task management tool. As described above, there are several options for this from Microsoft itself (To-Do, Planner, Project) or external third-party solutions. Add the tool either in the General channel or one of the other channels, depending on where it makes the most sense for your project. Tip: for complex projects with numerous tasks, it is a great time saver to also create them in advance in a standardized template and then simply copy (or provision) them for each new project.
Create folders and add project files: A good folder structure makes it easier for the project team to find files. Create the necessary folders for each channel accordingly. For files that are used in every project, it is also recommended to create a project template. This way, these files do not have to be added manually each time.
Success factors in project management: best practices and practical experience with Teams
Success factors in project management
Effective communication is the foundation of successful project management, and Teams excels at providing an integrated platform for communication and collaboration. Its features enable transparent communication so that everyone is informed about the progress of the project. Another important success factor is task management.
Teams integration with Microsoft Planner enables streamlined task creation, assignment, and tracking, ensuring that deadlines are met efficiently. Microsoft Teams also provides a single point of access for all project-related information that is accessible to all team members and improves the overall organization of the project.
Customizability to meet individual project requirements and integration with a wide range of third-party apps and services increases efficiency. Saving templates for future project setups also speeds up project launch. Finally, the ability to track progress transparently and in real time ensures that all team members have a clear overview of their tasks and the overall project status. Effective communication, integrated task management, centralized information, customizability and transparent tracking all contribute to project success.
Case Study Project Management: GEBRÜDER PETERS Gebäudetechnik AG
GEBRÜDER PETERS Gebäudetechnik AG, a company that manages construction projects, has successfully implemented Microsoft Teams for project management, task management, file storage and documentation. Previously, employees had difficulty accessing project-related files. To improve this, the company planned a standardized project space within Microsoft Teams with a predefined folder structure, a OneNote with all content, and a predefined planner with tasks. However, setting up these standardized project spaces required a lot of manual effort that was both time-consuming and error-prone.
To solve this problem, GEBRÜDER PETERS launched Teams Manager, an application fully integrated with Microsoft Teams. With this tool, the company can easily deploy standardized project spaces, including planner baskets, tasks and predefined OneNotes, significantly reducing manual workload and the likelihood of errors. Teams Manager also provides features such as automated templates and lifecycles for archiving, as well as naming conventions for consistent naming of project spaces. This not only saves time, but also brings consistency and clarity to project organization.
Learn more about Teams Manager and the cooperation with GEBRÜDER PETERS Gebäudetechnik AG in our full Case Study.
The essentials for successful project management with MS Teams
Switching to Microsoft Teams for project management may seem like a big step, but the numerous benefits it brings are worth it and make Microsoft Teams an ideal choice for project management:
Streamlined communication: Teams simplifies communication by bringing all stakeholders onto a single platform. Instant messaging, video conferencing, and team channels enable effortless collaboration while ensuring everyone stays informed.
Centralized documentation: With Teams, all your files, notes, and documents are in a single place. You can share files with your team, edit them together in real time, and even access older versions if needed.
Task management: Microsoft Planner's integration with Teams allows you to create, assign, and manage tasks within your team. You can monitor progress, set deadlines, and effectively manage workload – all from one dashboard.
Enhanced security: Microsoft Teams complies with a range of data protection standards, ensuring that your project data remains secure.
Automation and standardization: In combination with additional tools such as Teams Manager, Teams can significantly automate and standardize your project management process, saving time and reducing errors.
Finally, we have summarized 5 tips for effective project management with Microsoft Teams:
| | |
| --- | --- |
| Tips for effective project management | Implementation with Microsoft Teams |
| 1. Share status updates on a regular basis | Use team channels to share frequent project updates, milestones, and other important information. Also use @mentions to notify relevant team members. |
| 2. Define clear roles and responsibilities | Use the Description section of each team to outline members' roles and responsibilities. Also, use the Planner to assign clear tasks to individuals and increase transparency. |
| 3. Prioritize tasks and track progress | Use Microsoft Planner in Teams to create, assign and prioritize tasks. The tool also allows you to track the progress of each task and the overall project. |
| 4. Integrate apps and bots | Make the most of the integrations available in Microsoft Teams. Apps and bots can automate processes, send reminders, provide analytics, and perform many other tasks to streamline project management. |
| 5. Encourage the culture of collaboration | Use Teams features like collaborative document editing, brainstorming on virtual whiteboards, and celebrating team successes in the shared channel to foster a sense of teamwork and shared accomplishment. |
With External User Manager, you can say goodbye to the risks and worries of external collaboration in your project management.


FAQ about project management in Microsoft Teams
Why project management with MS Teams?
Microsoft Teams improves project management by centralizing communication, task management, and file storage on a single platform. Integration capabilities with other Microsoft tools and third-party applications provide comprehensive project management solutions that enable greater efficiency and collaboration in Teams.
What Microsoft tools are available for project management with Microsoft Teams?
Microsoft Teams offers a variety of tools for project management. These include integrated chat and video calls for communication, Microsoft Planner for task management, and file sharing capabilities for document management. Teams also allows integration with various Microsoft and third-party applications such as Excel, PowerPoint, Project, etc., providing a comprehensive suite for all project management needs.
What third-party project management apps are available for Microsoft Teams?
There are several third-party applications that integrate with Microsoft Teams to improve project management:

Trello: A popular project management tool that provides boards, lists and cards to organize and prioritize tasks and projects in a flexible way.

Asana: Another well-known project management app, Asana provides a set of tools for planning, organizing and executing tasks and projects.

Jira Cloud: Jira is especially popular for software development projects and allows for issue tracking and project management. The cloud version of Jira integrates seamlessly with teams.

Smartsheet: Smartsheet is a robust work management and automation platform that provides real-time collaboration and workflow management that integrates with teams.

Wrike: This tool is designed for high-performing teams that want to collaborate and streamline their work. It offers features such as real-time project updates and report generation.

Each of these tools integrates with Microsoft Teams to provide a more complete project management experience, and you can choose according to your specific needs and preferences.
How to integrate project management with MS Teams into the company?
Integrating project management with Microsoft Teams in an organization requires a few key steps. First, consider the specific requirements of your projects and how Teams can meet them. Then, conduct a structured rollout of the platform, which may include setting up Teams and Channels, setting up Planner for task management, and transferring project files to Teams. It's also critical to train team members on how to use Teams for project management and to continually refine how Teams is set up based on feedback and changing project needs.
How does Microsoft Teams improve team collaboration in project management?
Microsoft Teams improves team collaboration by providing a unified platform where team members can communicate, share files, and manage tasks. The ability to create different channels for different aspects of projects allows discussions to be targeted. Integration with Microsoft Planner allows tasks to be assigned and tracked within the platform. In addition, the ability to collaboratively edit documents and the availability of a persistent chat history improve collaboration efficiency.
Can you manage multiple projects at the same time with Microsoft Teams?
Yes, Microsoft Teams is designed to manage multiple projects simultaneously. You can create separate teams for different projects, and within each team you can have different channels for different aspects or phases of the project. This allows for clear separation of projects and facilitates efficient project management. Integration with tools like Microsoft Planner further supports multi-project management by allowing you to assign and track tasks for different projects within the Teams platform.
How secure is my project data in Microsoft Teams?
Microsoft Teams ensures a high level of security for your project data. It's built on the robust Office 365 cloud and provides enterprise-level security and compliance. Teams adheres to various compliance standards, including ISO 27001, HIPAA, and EU model clauses. It uses two-factor authentication and encryption of data in transit and at rest to protect your project data.
Read More About Project Management in Microsoft Teams
More blog posts about project management with Microsoft Teams! Useful information not just for project managers but for your everyday work in Teams:
Microsoft Teams Integration of Third-Party Apps
Use Microsoft Teams for Project Management: Benefits
Project Management: Important KPIs
Microsoft Teams Task Management – Task apps like Planner, To Do, Lists
The 5 Phases of Project Management
As you embark on your project management journey with Microsoft Teams, remember that you can further streamline your processes, automate tasks, and improve collaboration through integration with Teams Manager. Don't just manage, manage smarter with Teams and Teams Manager for a truly great project management experience.