Microsoft Teams Integration
Project management tools are an important aspect of any organization, regardless of its size or industry. Project management focuses on planning, executing and completing projects in an efficient and effective manner. In today's fast-paced and competitive business environment, project managers are under increasing pressure to complete projects on time, within budget, and with high-quality results. To meet these demands, they need powerful tools that help them improve their work and make informed decisions.
This is where Microsoft Teams comes in, one of the most popular platforms for all of the above. With its chat, video conferencing and file sharing features, Teams has become a popular tool for many businesses. By integrating Microsoft tools, such as To Do, Planner, and Project, you can create tasks in Microsoft Teams, or by integrating the external tools, such as Monday.com, Asana, and ClickUp, you can streamline your project management process and maximize productivity. In this blog post, you'll learn how integrating Microsoft Teams with these project management tools can take your project management to the next level.
Microsoft Teams Integration with Monday.com
Monday.com is an excellent project management tool that offers its users several advantages. One of the main benefits is the possibility to create customizable workspaces that can be tailored to each team's specific needs. This way, users can easily track the progress of their projects and see who is working on what at a given moment. Another great benefit is the resource management tools that can efficiently manage staff, time and materials so that projects can be completed on time and within budget. Collaboration features, such as file sharing and real-time communication, make it easy for teams to work together, even if they are in different locations. In addition, powerful reporting and analytics capabilities allow users to track the progress of their projects, identify trends, and make data-driven decisions.
There are two ways to integrate Monday.com with Microsoft Teams.
To get started, go to the board you want to integrate and click "Integrate".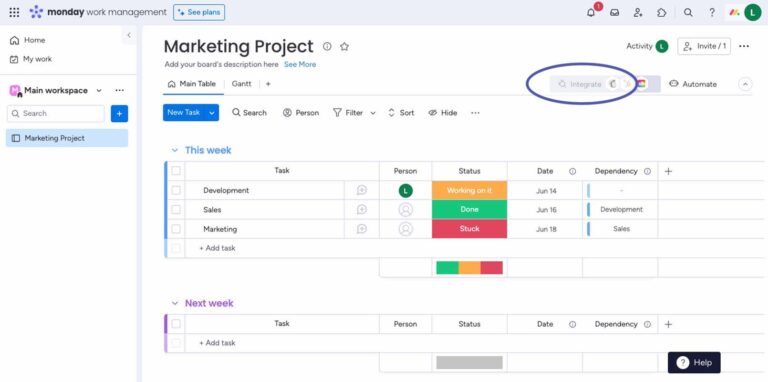 Select the Microsoft Teams integration from the Integration Center, and then select an integration formula. Connect your Monday.com and Microsoft Teams accounts by clicking Connect and following the sign-in steps.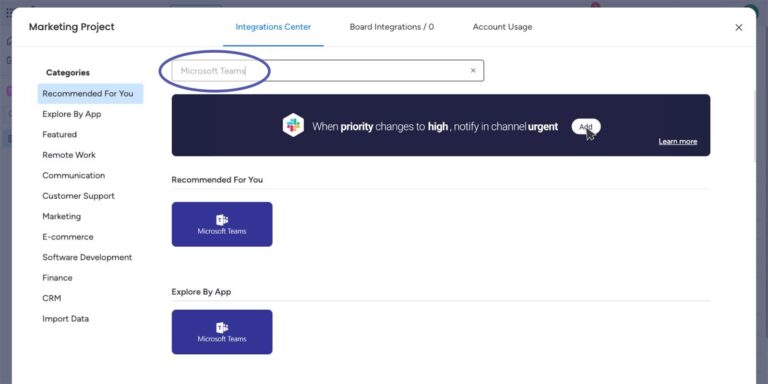 Once you've successfully connected your accounts, you can start creating recipes to communicate more efficiently with your team. For example, you can set up notifications to be sent to a Teams channel when a new item is created or a status changes. This way, everyone stays on the same page and important information doesn't get lost in the shuffle.
Besides the first option to integrate Monday.com with Microsoft Teams, there is another method that provides you with deeper integration features. For this option you need to install the Monday.com app directly in Microsoft Teams.
To add Monday.com to your Microsoft Teams channel, first click the "+" icon.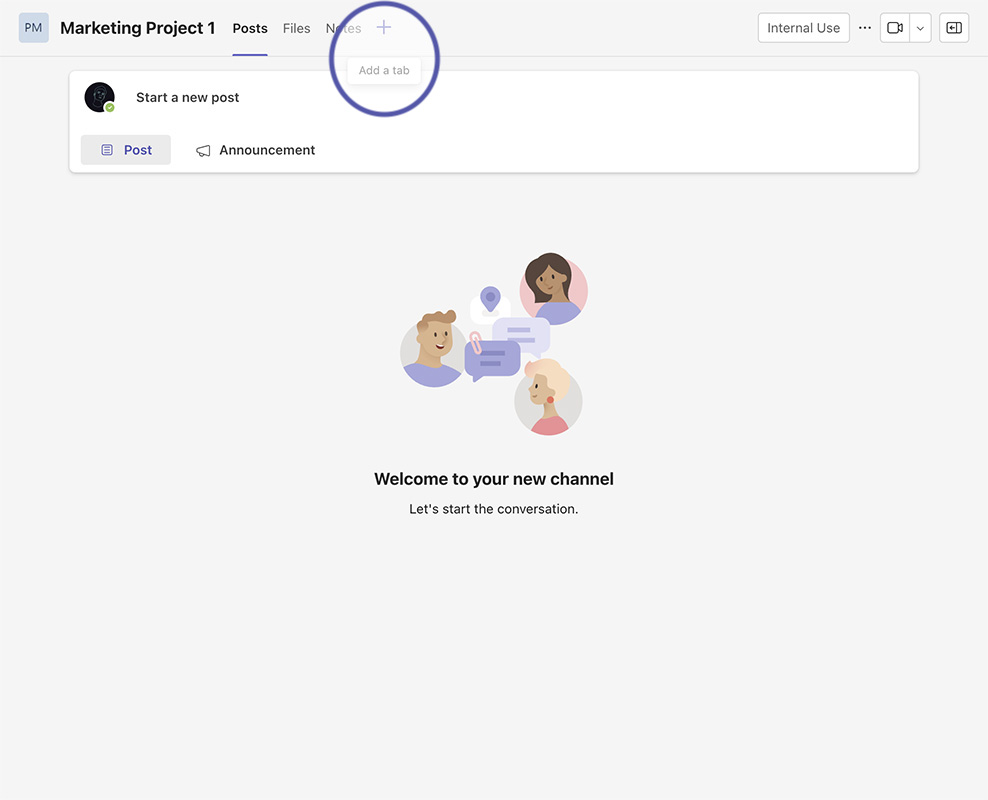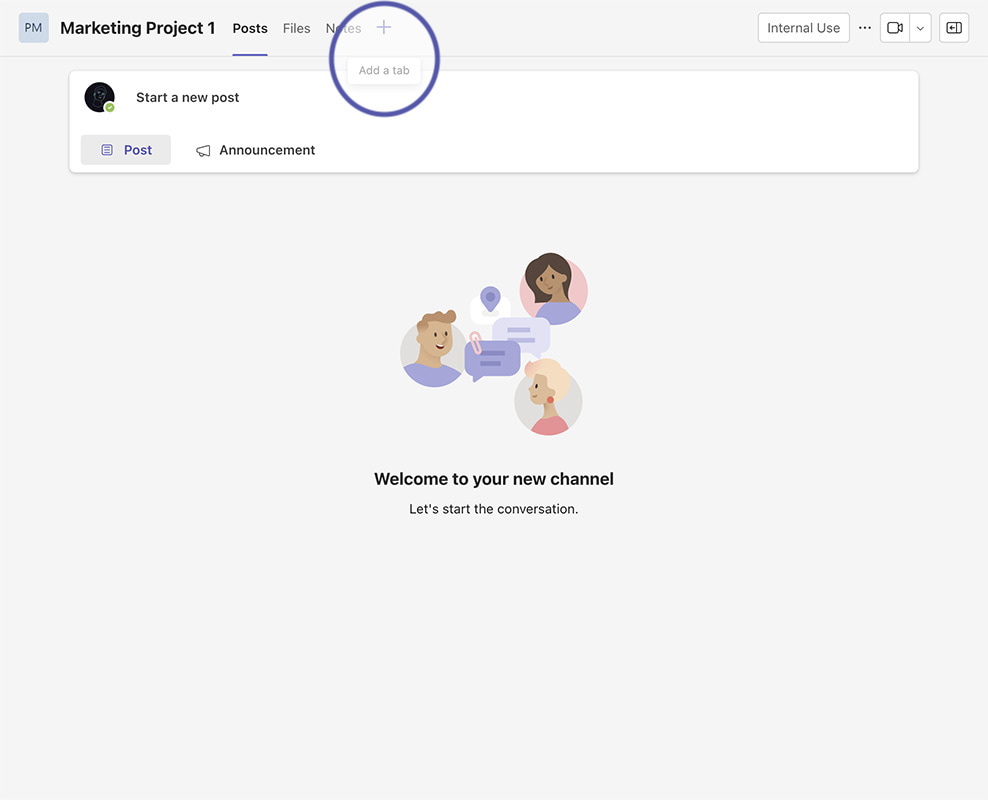 Then search for Monday.com.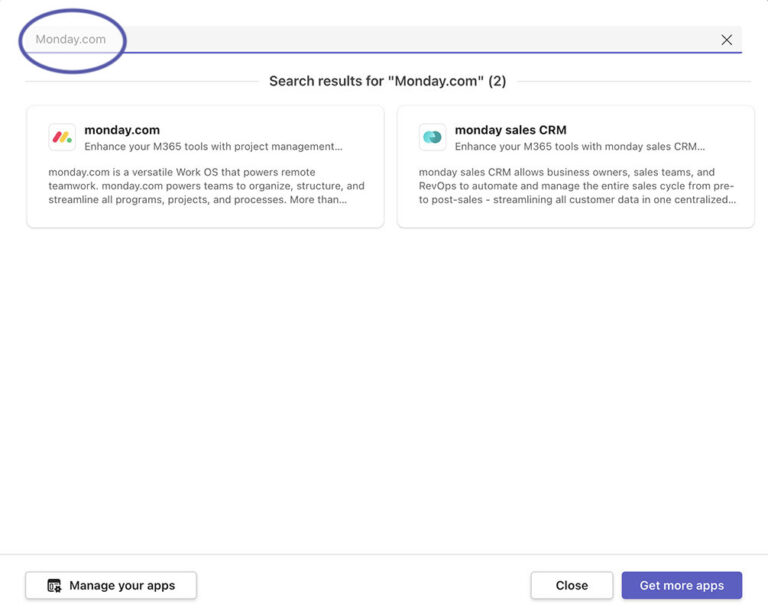 Once you've added the board as a tab in the channel, you can use all the features of Monday.com, including automations, integrations, board views, advanced board filters and more. You can even manage and edit your team's board and work directly from your channel. You can also use the Monday.com chatbot to connect to your account and create new articles. You can use the "add-notifications" command to add notifications from selected boards and the "create-item" command to create new items in the selected board directly from the chatbot.
In addition, you can search and share relevant posts and boards from your Monday.com account directly in your MS Teams chat or channel. The video meeting extension is also a great way to view and update your Monday.com boards during a meeting using the Teams app. With the extension, you and your team members can interact with a board in real time during a video call.

Microsoft Teams Integration with Asana
Asana is a popular project management tool with numerous benefits that make it a good choice for many organizations. The platform has a clean and user-friendly interface that allows users to easily navigate its project management features, making it ideal for beginners. Asana also integrates with a variety of other tools and platforms, including Google Drive and Slack, making it easy for organizations to integrate with existing systems. In addition, Asana offers a mobile app that allows users to manage their projects and tasks from anywhere. Despite some limitations in terms of customization options, Asana remains a highly effective project management tool with many benefits that make it a valuable addition to any organization.
The integration of Asana with Microsoft Teams offers several benefits that can help teams stay productive and connected. One of the main benefits is the ability to collaborate on Asana tasks within Teams, allowing users to turn conversations and meetings into actionable tasks. In addition, the integration allows teams to view Asana tasks, projects, status updates and portfolios, making it easier to find the information they need without having to switch between applications. Sharing tasks and projects with stakeholders makes relevant details clear to everyone and provides context.
The integration also allows users to receive important notifications in their private My Tasks and customize their notification preferences per channel. This way, they can track the progress of tasks in Teams channels and keep track of necessary information in Asana while staying focused and connected in Teams. During Teams meetings, users can create, assign, and view tasks without switching to their browser, enabling seamless collaboration.
Finally, Asana's customizable processes and rules allow users to trigger actions in Teams based on work done in Asana and automate the process of sending messages to Teams channels based on specific triggers. With the integration of Asana and Microsoft Teams, teams can be more productive and stay connected no matter where they work from.
To integrate Asana with Microsoft Teams, first ensure that your Microsoft Teams administrator has allowed the use and installation of apps. Then open Microsoft Teams and click the Apps tab in the left navigation bar.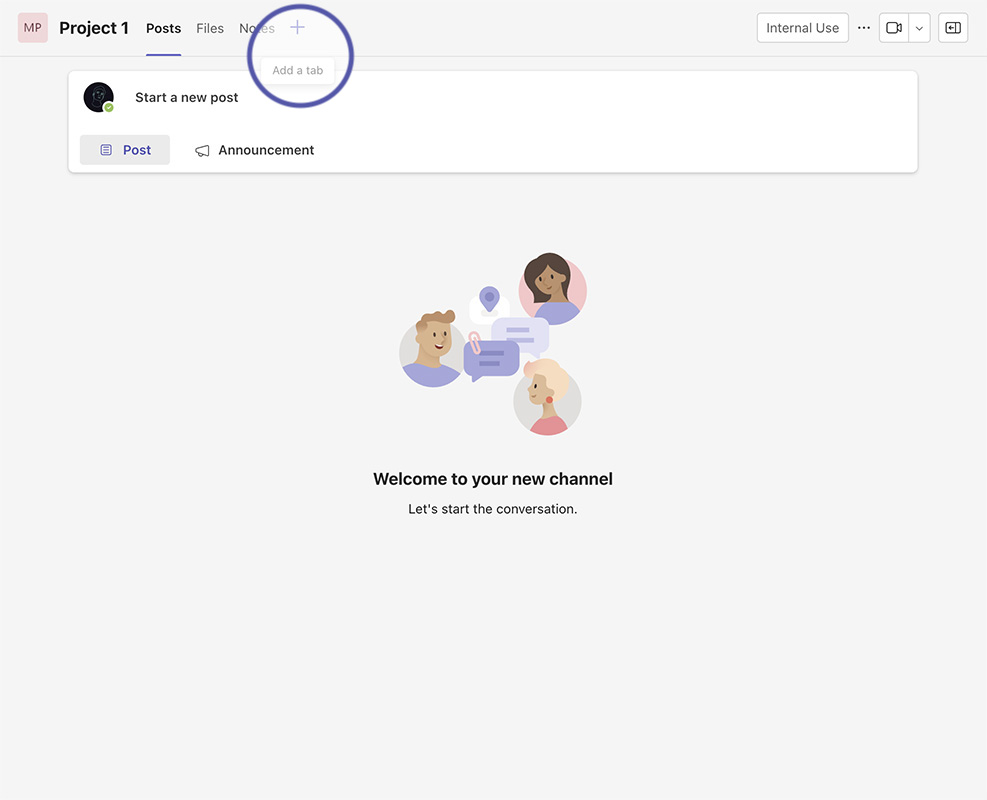 After that, search for Asana.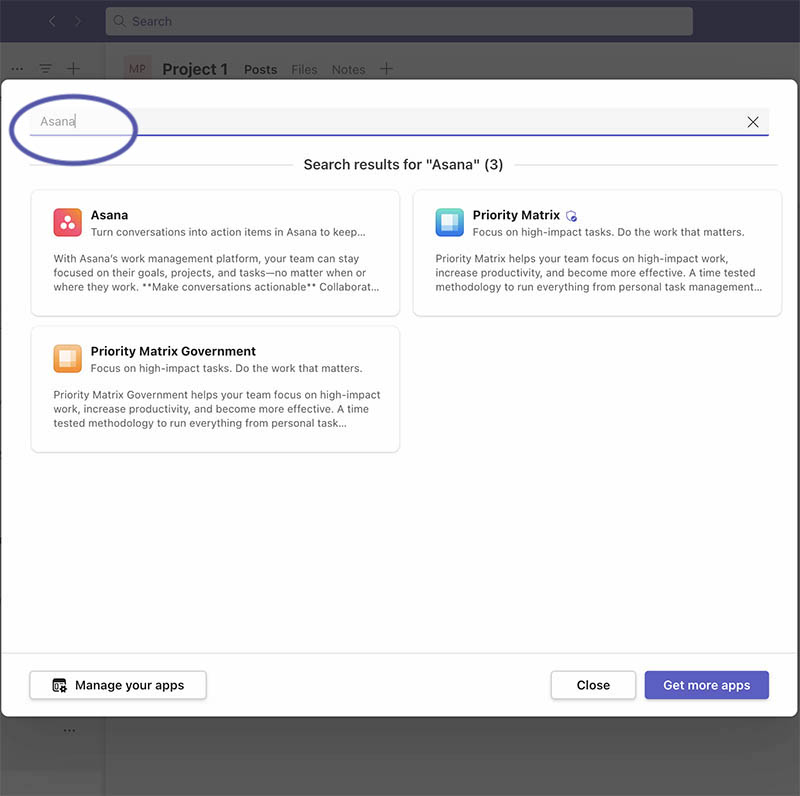 Click Add to install the app.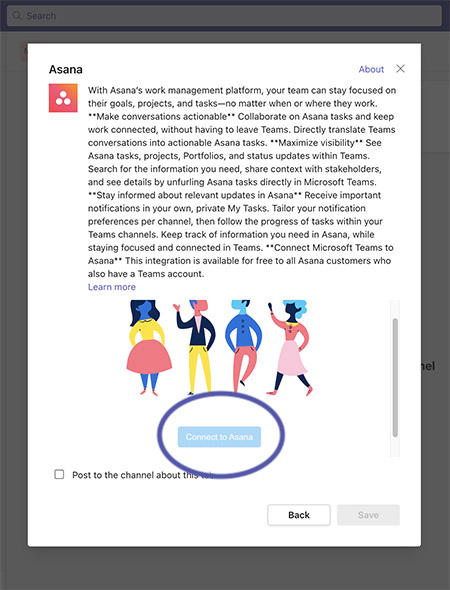 The Asana bot will now appear in your chat. The bot will prompt you to sign in and confirm your Asana workspace. Once signed in, you can use the integration and collaborate on Asana tasks and projects directly from Microsoft Teams. You can also set up customizable processes and rules to automatically trigger actions in Teams based on work done in Asana.
Microsoft Teams Integration with ClickUp
ClickUp is a powerful project management tool with many benefits. It has a robust task management system that allows users to create, assign and track tasks, set due dates, priorities and dependencies, and receive notifications. In addition, ClickUp is highly customizable and offers the ability to create custom views, workflows and templates, making it ideal for organizations with specific project management needs. In addition, ClickUp's affordability makes it a good option for companies with limited project management budgets. Although some users have reported limited reporting and analytics capabilities, ClickUp's many positive features make it a popular choice among project management tools.
Integrating ClickUp with Microsoft Teams can bring numerous benefits to your workflow. However, it is important to note that only a ClickUp Workspace owner or administrator can set up integrations. Once the integration is set up, you can start using the various features. For example, notifications can be customized to send updates for specific spaces, folders, or lists directly to your Microsoft Teams channel. This way you won't miss any important updates and keep track of your work.
Another great feature is Rich Unfurling, which lets your team members know exactly what task you're discussing by adding details to a ClickUp link shared in your channel. This makes collaboration much smoother and more efficient, as everyone can quickly access the information they need without having to switch between different tools.
The messaging extension is another helpful tool that lets you easily find a task and attach it directly to any Microsoft Teams conversation. This ensures that everyone is always on the same page and tasks don't get lost in the shuffle.
Finally, you can even embed your entire ClickUp workspace into Microsoft Teams by embedding public, read-only task views. This way, you can view and manage your tasks without leaving Teams. Overall, integrating ClickUp with Microsoft Teams can help make your workflow more efficient and improve collaboration between team members.
To integrate ClickUp with Microsoft Teams, you can follow the steps below.
Open ClickUp, click on the bottom left of your avatar and access the App Center.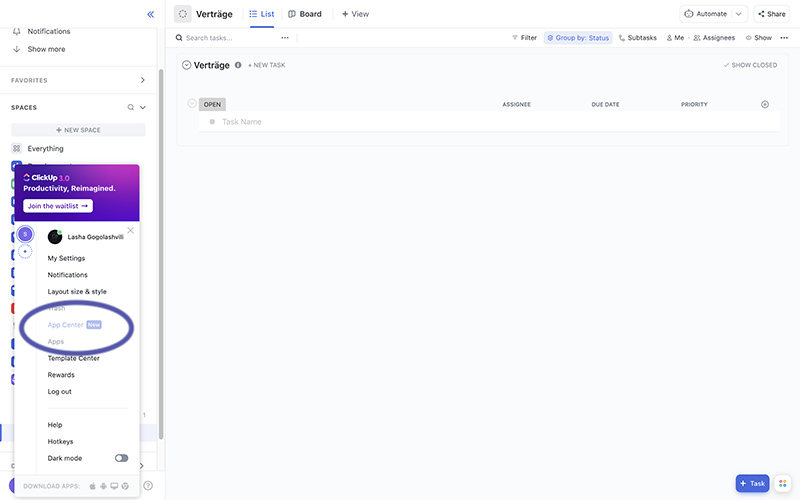 Under "Communication" you will find Microsoft Teams.
Finally, click Install.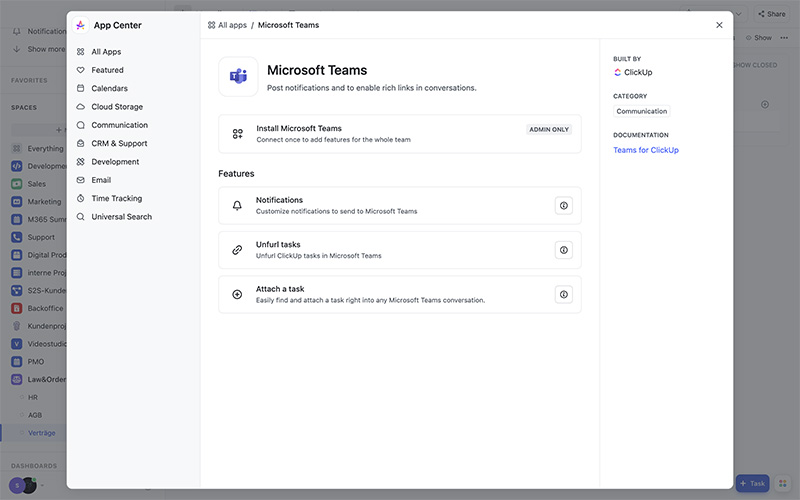 Once you have completed these steps, you are ready and have successfully added ClickUp to your Microsoft Teams.
Did you know that it's possible for you to configure project rooms with preset folders, files, and channels using Teams Manager in Microsoft Teams?