Microsoft Teams Management
Approval Workflow, Lifecycle, Naming Conventions, Metadata and Templates for your Microsoft Teams Governance
Pricing
The easiest tool for your Microsoft Teams management.

Keep control of your Microsoft Teams
Request & Approval Workflow
Teams Manager offers an automated approval workflow that allows you to easily review and approve all requests for new Teams. Prevent the uncontrolled creation of teams and provide your users with an easy and fully integrated approval solution.
Stay in control – prevent sprawl
Simple request process
Ask users for custom metadata
Microsoft Teams Governance Policies
Create powerful governance policies in Microsoft Teams by combining your own personalized lifecycle settings and naming conventions. Use lifecycles to archive or delete inactive Teams. With naming conventions you can ensure a better overview and structure in the Team list.
Teams Templates & Provisioning
Create a variety of templates with just a few clicks and give your users the structure they need to start working right away. Provide your templates with apps and a folder structure, define member permissions and even predefine OneNote and Planner content.
Easy to use – no coding necessary!
Provide a consistent structure for channels, apps, settings and more
Improve collaboration throughout Microsoft Teams
Onboarding Process
With the new onboarding design, we want to make sure every user of Teams Manager has the best first-time experience possible. Help with onboarding your users and make your life as an admin easier.
Welcome message as an adaptive card
A welcome page to get started
Walkthrough through all important settings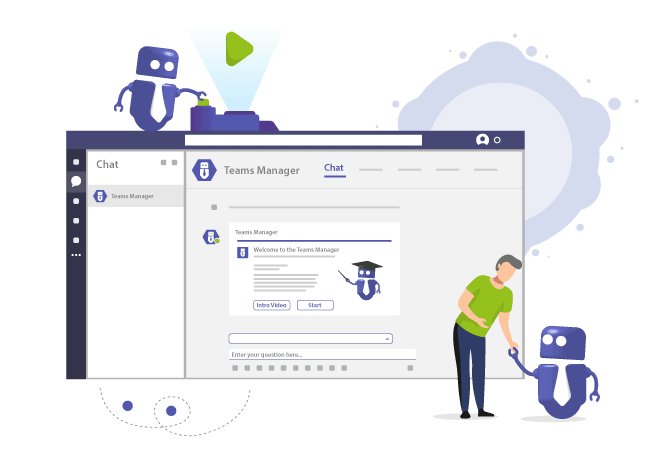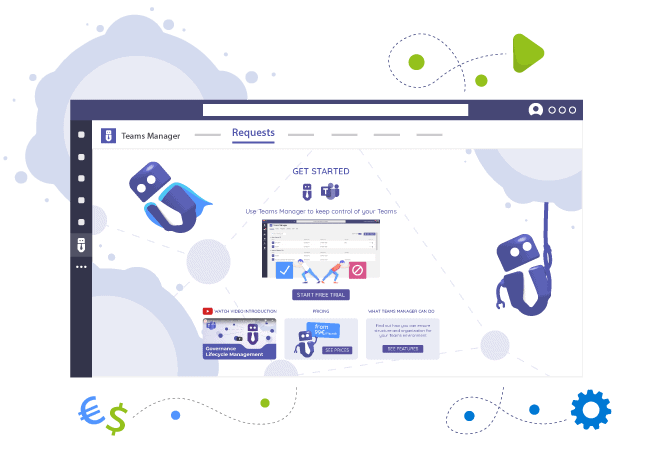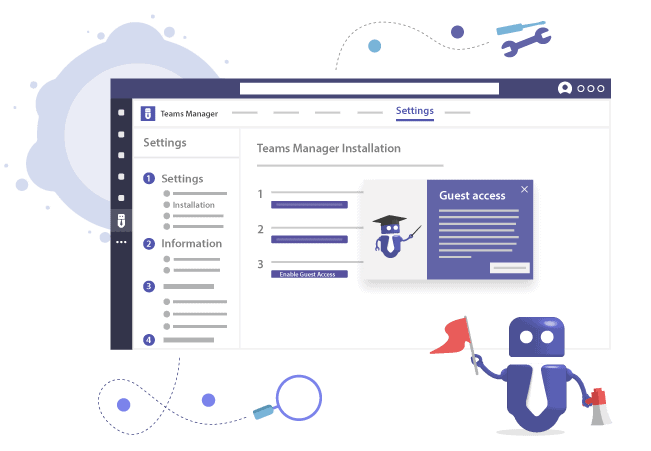 Governance automation
Teams Manager
Microsoft Teams
out of the box
Team request
Approval workflow
Template catalog
  Download & upload templates
  Custom templates
Policies
  Naming conventions
  Lifecycle management
  Classifications
manually
Integrate existing teams
Policy conditions
Duplicate detection
Recurring policy checks
Coming soon
Classify new created teams
Templating
Teams Manager
Microsoft Teams
out of the box
Template based on a team
only copy
Planner with predefined tasks
OneNote with content
SharePoint artifacts
Webhook
Package
Predefined templates
Usability
Teams Manager
Microsoft Teams
out of the box
Notification in Teams
Bot communication
Training videos
Employee training solution
Information
Teams Manager
Microsoft Teams
out of the box
Onboarding
Teams overview
Enterprise meta data
Information Tab
Security
Teams Manager
Microsoft Teams
out of the box
Classifications
manually
Guest access
manually
Access testing process
External User
Manager
Reporting
Teams Manager
Microsoft Teams
out of the box
Ownerless teams
Admincenter
Unused teams
Admincenter
Teams usage
Admincenter
Inactive teams
Admincenter
Externally released teams
Coming soon
Admincenter
External user usage
Coming soon
Admincenter
Integrations
Teams Manager
Microsoft Teams
out of the box
Webhook implementation
 Webhook
Package
REST API access
 Webhook
Package
Flow integration
 Webhook
Package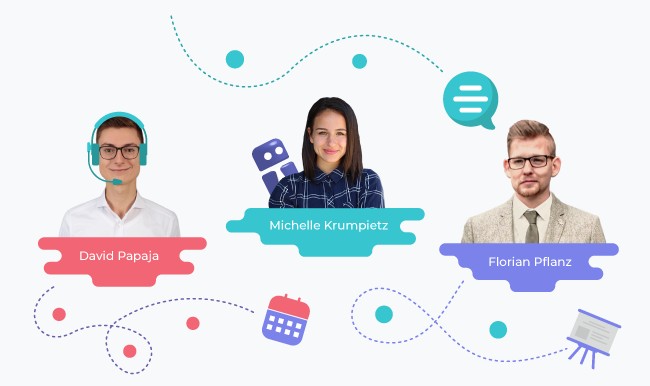 30-MINUTE DEMO
Understanding your requirements and objectives is important to us. We listen and work together to set you up with the best tool for Microsoft Teams management.
Large (1.000-4.000 users)
Please note: Mandatory support is not included.
*Only available as annual subscription. Prices without tax.
Want to buy instead of subscribing? We'll find a solution – please contact us at [email protected]
A list of frequently asked questions concerning our Teams Manager.
Can I try Teams Manager for free?
Yes! There is a 14 day free trial version available when you install the Teams Manager App from the Microsoft Teams App Store or directly from Microsoft AppSource. The trial version includes all features.
Can I pay by invoice?
If you want to buy the Teams Manager without credit card we will make you an offer and send you a normal invoice. After the payment we will activate your license on your Microsoft Teams tenant.
How can I access my invoices?
You can access your invoices in our customer portal. Of course you get your invoices via e-mail as well.
Here you can find some of our Teams Manager related blog posts.
All Blog Posts