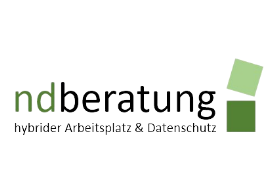 This is our partner ndberatung
ndberatung advises you in four areas of action: Hybrid Work with Microsoft 365, data protection & data security, needs-based licensing of the platform and building an eLearning & knowledge management platform with Microsoft Viva.
The introduction of a modern, hybrid and secure workplace with Microsoft 365 is complex and raises many questions: What can the Microsoft 365 platform do and which usage scenarios can be mapped and implemented profitably? What added value is generated? What are the legal framework conditions? What about data protection? Is the platform compliant with DSGVO and BSI standards? How do we license it? Together with you, ndberatung answers these questions and develops the corresponding implementation concepts in workshops.
"Hybrid work is here to stay. There is no doubt about that. The benefits for organizations and for employees are immense. Key parameters need to be redefined here, such as; the design of the workplace, home office or corporate, the culture of the company, digital literacy and inclusion. The main drivers are employees and culture. And as the basis of all this, security & compliance."
Get in touch with ndberatung