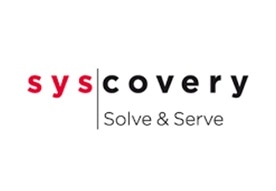 This is our partner syscovery solve & serve GmbH
syscovery Solve & Serve guides its clients from the private and public sector into the digital age in all their operating divisions, from the first idea through the concept and implementation up to operation.
Since 1999, syscovery Solve & Serve has been working as a reliable IT partner, both at national and international level. As a business partner for medium-sized companies, corporate organizations and the public sector, syscovery assists its clients in realigning their IT strategy. syscovery assists corporate IT departments with new infrastructure solutions and traditional IT services and offer complementary and combination solutions in the fields of Managed Services and Cloud Solutions.
syscovery Solve & Serve GmbH provides competent process and technology consulting, the development, implementation and operation of IT solutions.
"We are your companion on your journey to digital transformation, making all your great plans reality – processes, projects, managed services and cloud solutions. "Solve & Serve" signifies the combination of IT solutions and IT services helping companies increase their efficiency while saving on resources and simultaneously ensuring their productivity in a systematic and continuous way."
Get in touch with syscovery solve & serve GmbH