Creating Teams: Everybody or nobody?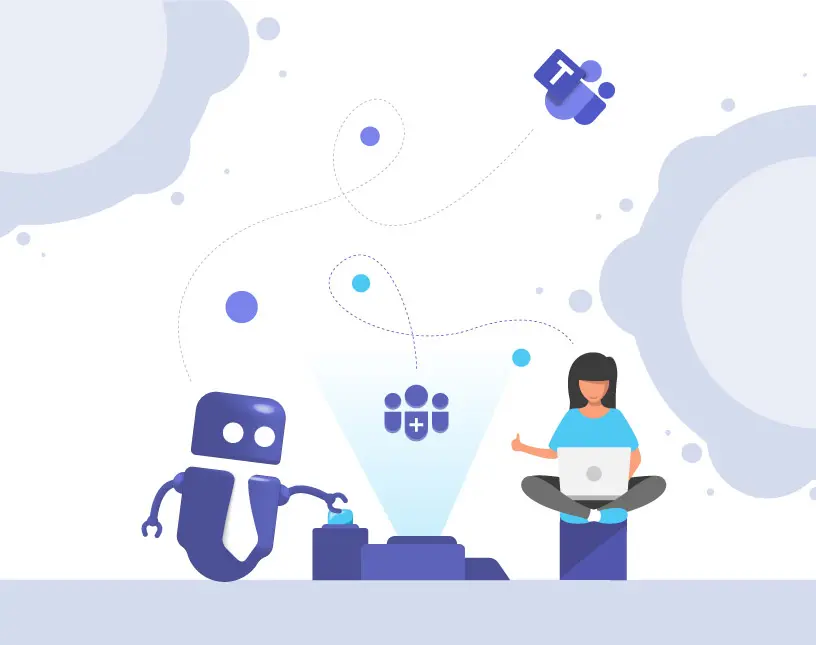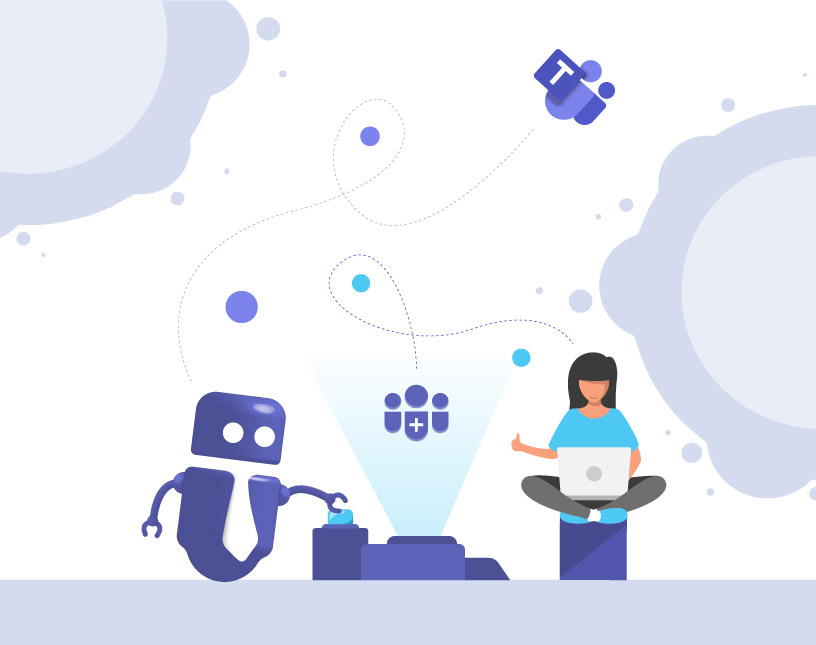 One of the biggest problems with Microsoft Teams is the assumption that it can be effortlessly applied to large organisations and can be easily accepted and intuitively used by their users. However, this is a risky assumption to make when introducing Microsoft Teams into an organisation with mixed levels of confidence and competence, as there will be inconsistency in the use and creation of different Teams.
Enabling your employees to create Teams themselves and according to their needs increases acceptance of the newly introduced tool. As your employees know best how a Team has to be structured for their task or project, this way saves unnecessary long email traffic with the responsible administrator about the requirements and lowers the level of frustration.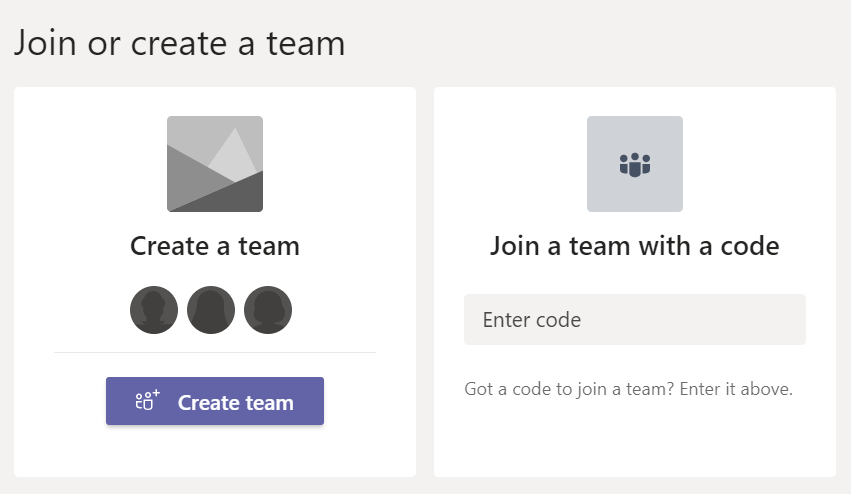 Nevertheless, it can lead to problems if many employees have high permission levels. Often it is not clearly defined when it is necessary to create a Team and when a channel or even just a chat is sufficient. It can also lead to Teams with the same purpose being created more than once. It can quickly cause uncontrolled growth that confuses your employees with many Teams without any real benefit. Read here how to disable Microsoft Teams creation.
However, it is not advisable to completely prohibit your employees from creating Teams, because a long process of creating a Team through the IT department can lead to an interruption of the workflow, especially when a Team is needed to continue the work. This can cause frustration among employees and reduce motivation. Building barriers may seem like a sensible solution to controlling the flood of information associated with Microsoft Teams, but this can backfire if not managed carefully and appropriately.
For a meaningful use of Microsoft Teams in companies, this means that there are a few valid options to manage the uncontrolled growth of Teams:
Creating teams is allowed for all employees. This can work in small businesses. However, training is recommended for employees, explaining to users how to use Microsoft Teams and when it is necessary to create a new Team. This can be time consuming and expensive.
Only a few carefully selected users are allowed to create Teams. This would require that Team creation be disabled for everyone except a small group of power users located in different parts of the organization. This carries the risk of long mail conversations about requirements and disrupts the workflow.
Another option would be to add an automatic approval workflow for creating teams. This gives your employees the ability to create Teams themselves and your company can still stay in control. There are several ways to implement this, but more about that later.
Creating Teams: Finding the optimal solution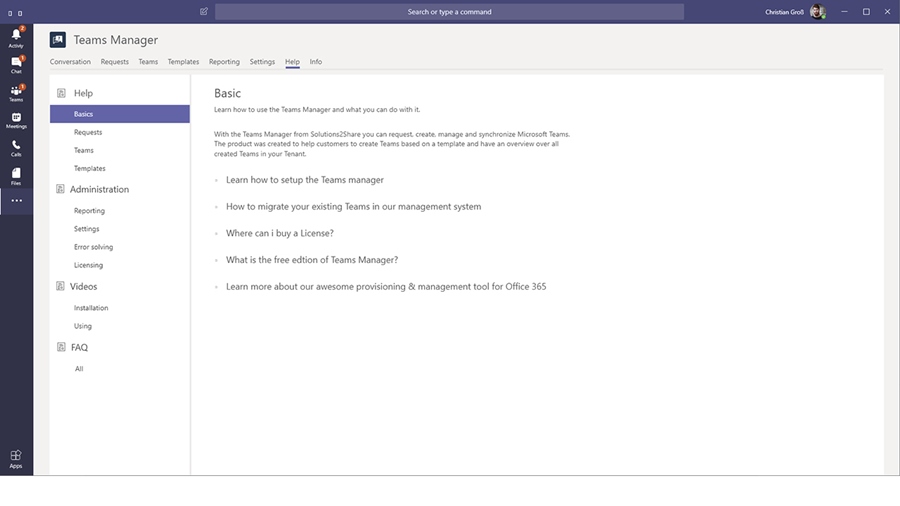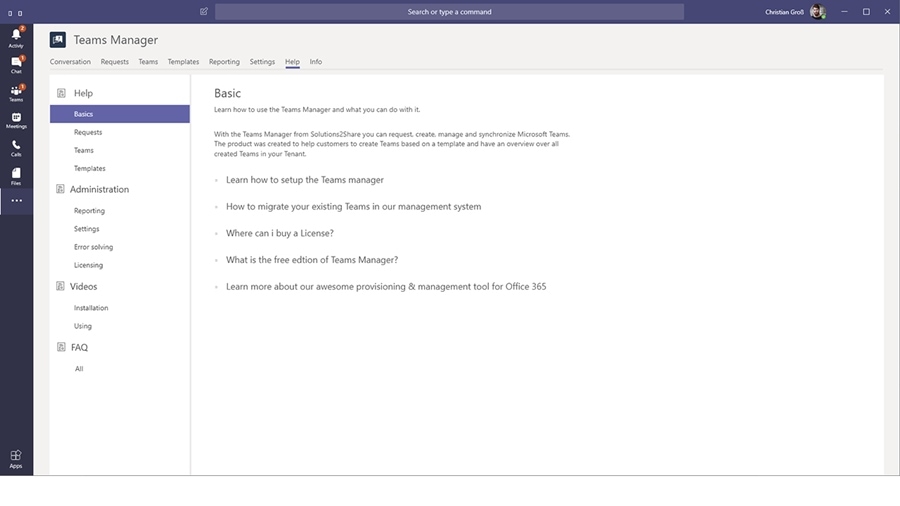 The optimal solution depends strongly on the requirements of your company. However, even with a small number of employees, it is not advisable to allow creating Teams completely. The restriction is therefore an acceptable solution, but it is not always practicable. Long waiting times can undermine the very purpose of Microsoft Teams, to work together quickly and easily.
So, there is still the middle way, which, as so often, seems to be the most efficient. An approval workflow gives your employees enough freedom not to lose motivation and you enough possibilities of intervention to stay in control. There is still the problem of requirements: especially in large companies it can be beneficial to use templates. On the one hand, it saves time, since tabs and channels etc. are already preconfigured, and on the other hand, the company can create specifications that are complied with for each template and thus for each Team created.
Implement the Solution
There are several ways to integrate an approval workflow: low code, no code and much code.
Much Code
For the coding solution, you can get your enterprise developers to write a web application complete with backend database, a frontend experience custom-built for Teams and APIs to read/write information for user to view or take action on. This is a very time-consuming and cost-intensive option, but it can also lead to a good, practicable solution, as there are endless customizing possibilities. In order to meet the possible requirements, a solution based on templates is also conceivable here, even if it is complex to implement.
Low Code
The second possibility would be, you keep it lightweight using just Teams, SharePoint Online and Microsoft Flow. In this low code solution, Flows are created as apps inside Teams. All you need is a modern SharePoint site with a public SharePoint list where the requests are collected and an employee Team where you pin the requests list as a channel tab. Now you have to add an incoming webhook connector to the request channel in the Team and create your approval workflow in Microsoft Flow with the corresponding triggers. As soon as an employee creates a new item in the list, the flow is triggered. Using connector cards, Approve and Reject action buttons can then be displayed directly in the Team's channel and edited by the approvers. Even though this solution is much easier and faster to create than an in-house solution, code is also needed here. Details on creating an approval workflow with the help of Teams, SharePoint and Flow can be found in the Microsoft Teams blog.
No Code
If you are trying to avoid coding and the hassle that comes with it, or want to create Teams based on templates, a finished provisioning solution should be the right choice for you. In addition to fast implementation and easy handling, it gives you the opportunity to create your Teams based on templates. This saves a lot of time, since tabs and channels etc. are already preconfigured, and gives you the possibility to create specifications that are complied with for each template and thus for each Team created. As a tool for this task, we recommend using the Teams Manager, which is capable of provisioning Teams based on templates including channels, settings, members, pre-defined tabs, Planner, OneNote and more. Changes in the template can easily be synchronized to all Teams based on the template.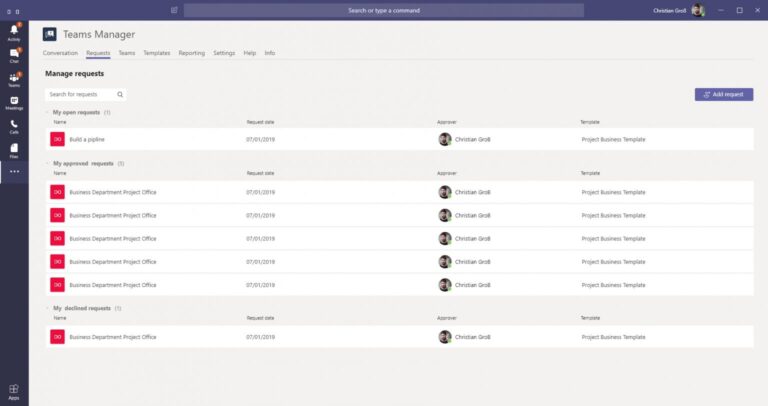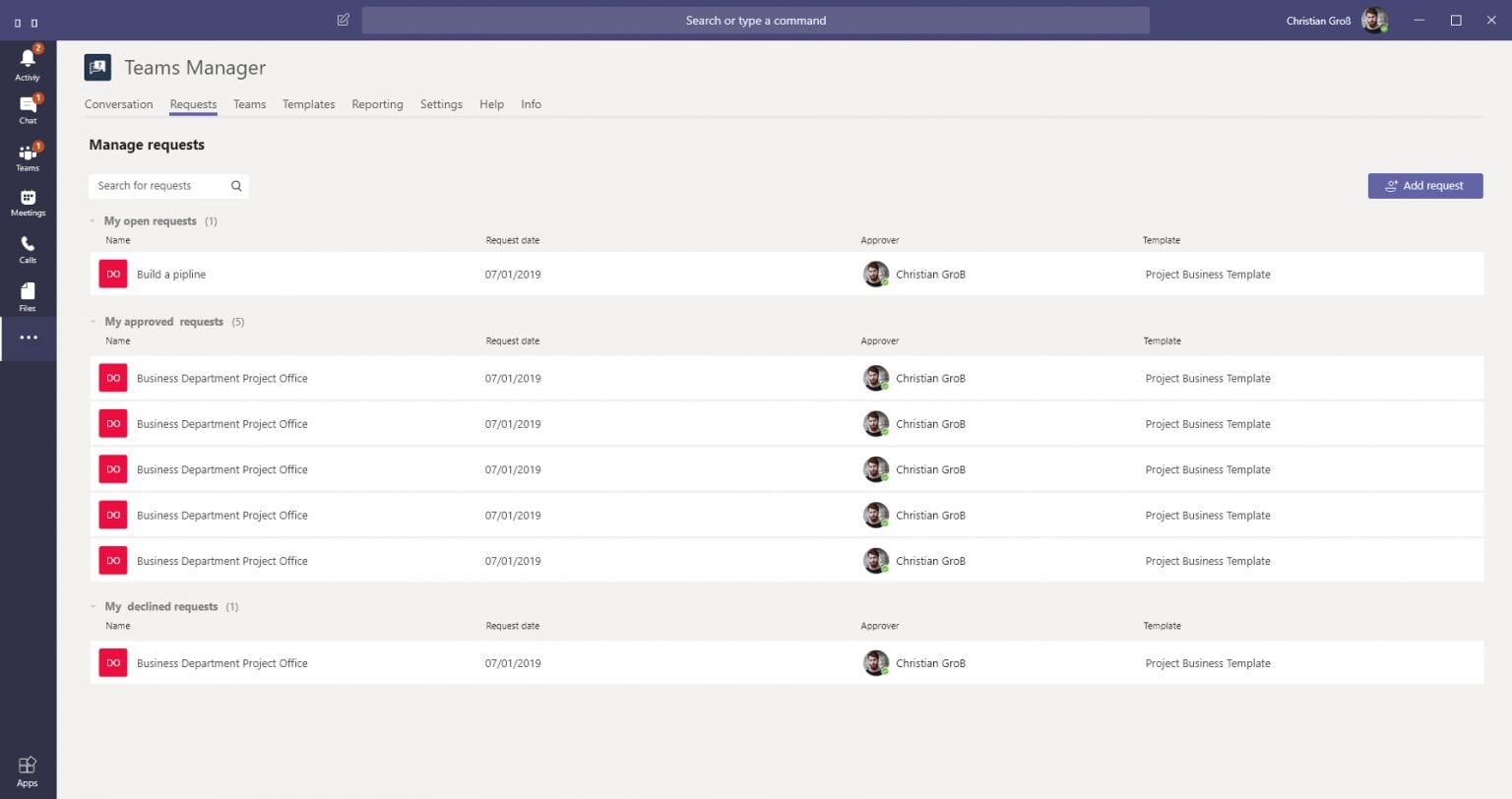 Teams Manager is fully integrated into Microsoft Teams and convinces with its user friendliness. You can provide your users a request form for new Teams within the Microsoft Teams application fully customizable to your needs. As soon as the creation of a new Team is requested, this triggers either a flow provided by Teams Manager or a self-configured Microsoft Flow. The approver now gets a Teams notification and an email and can approve or reject the creation as well as add a corresponding comment. After that, the user will be notified about the decision. It also comes with additional governance features like archiving and deletion dates, a request list, templates list, reports as well as an overview of all managed Teams.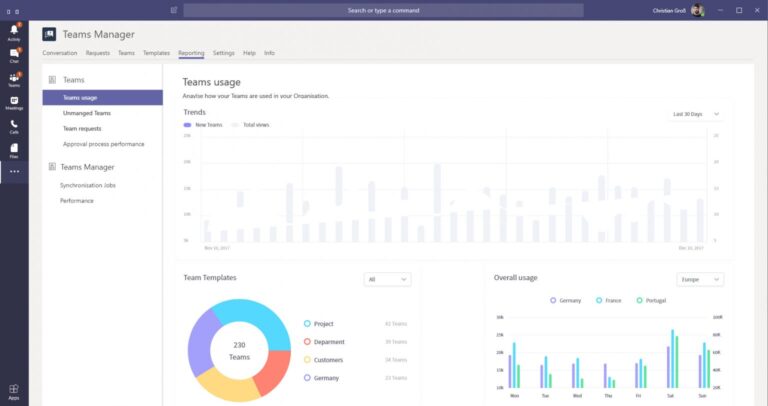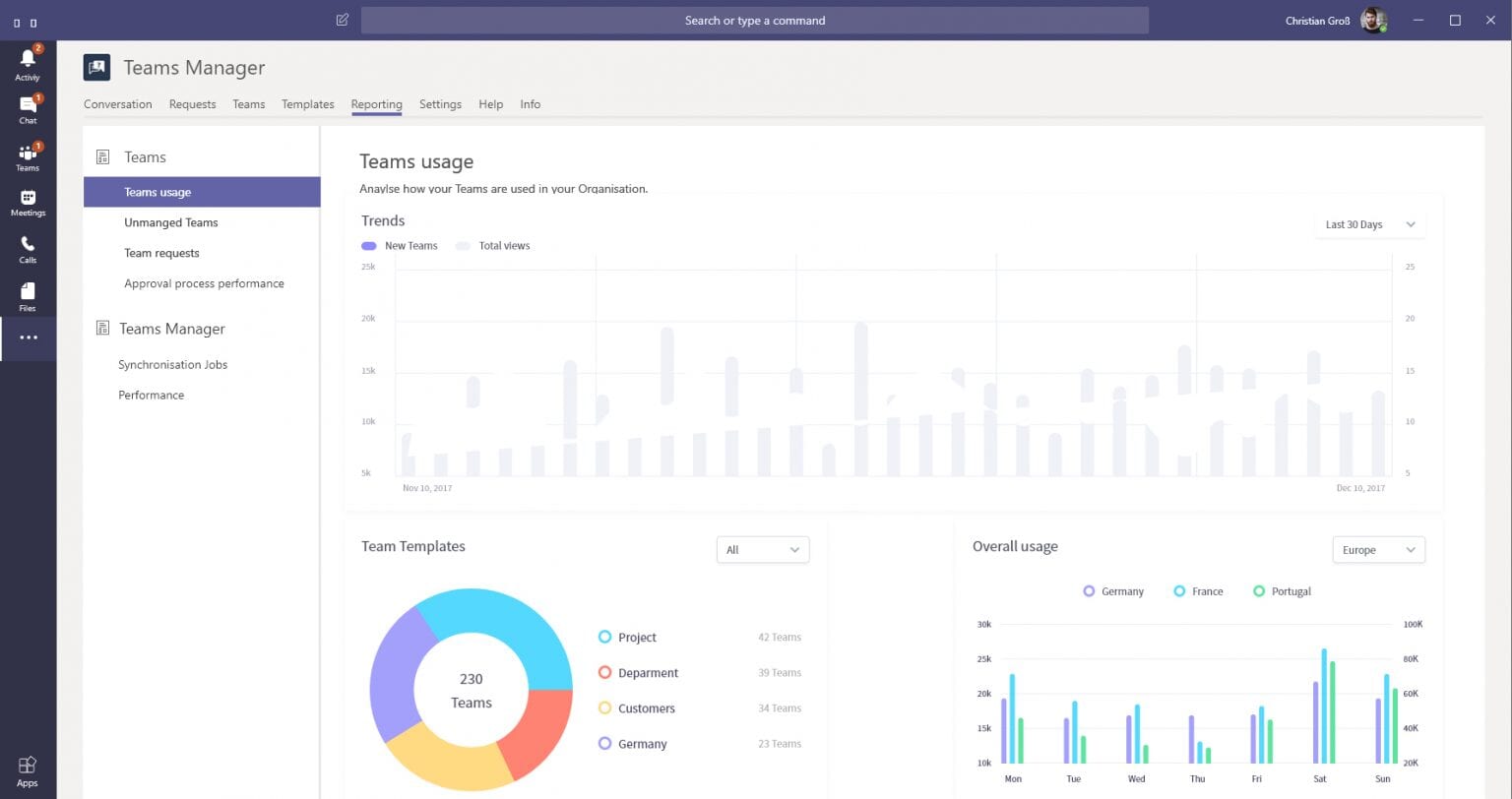 Creating Teams: Summary
So, give everyone or nobody the freedom of creating teams? Neither one nor the other are perfect solutions to the problem, but in some cases, such as very small companies or companies with strict requirements, can make sense. Own developments can become expensive and take up an enormous amount of working time, so they only make sense for very special requirements that otherwise cannot be fulfilled. With Teams Manager, you get a user-friendly and easy way for approval workflows and additional governance features. The integration to the Teams application separates this solution from others and makes it very intuitive to use.