Implementing Microsoft Teams: Common Mistakes and How To Avoid Them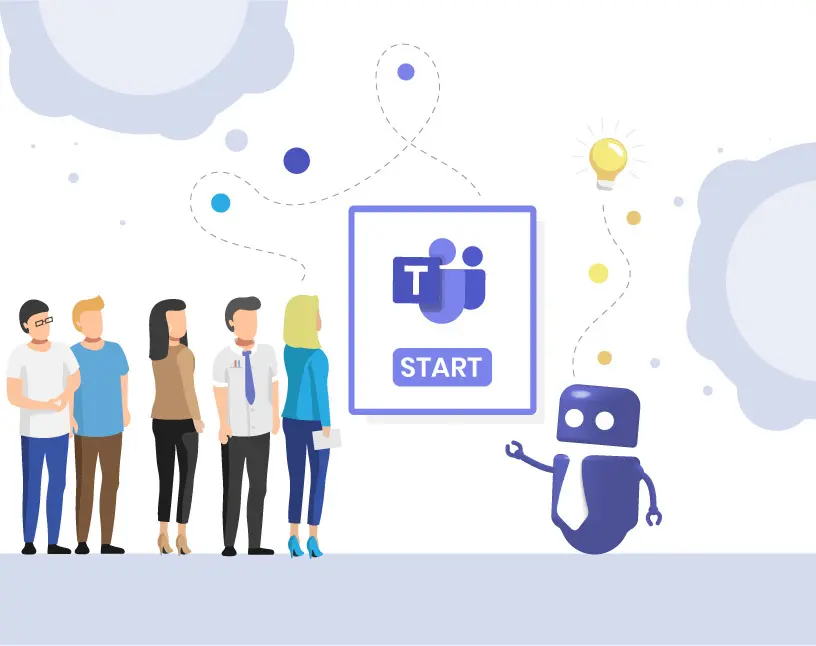 Microsoft Teams has established itself as one of the leading communication tools for companies in recent years. But as with any software, initial problems can arise during implementation. Based on various case studies, we have identified some of the most common mistakes when implementing Microsoft Teams and put together tips on how you can avoid them.
1. Unstructured implementation of Microsoft Teams
One of the biggest challenges when implementing Microsoft Teams is the tendency to introduce the tool in a pragmatic and unstructured manner. This can lead to confusion and inefficient use. It's important to have a clear structure and guidelines for using Teams from the start so that employees can work efficiently and productively.

2. Lack of naming conventions and governance
Another common problem is the lack of naming conventions for new teams. This can lead to teams being chaotic and difficult to find. One solution is to use naming conventions that, for example, automatically place the department or project number in front of the team name.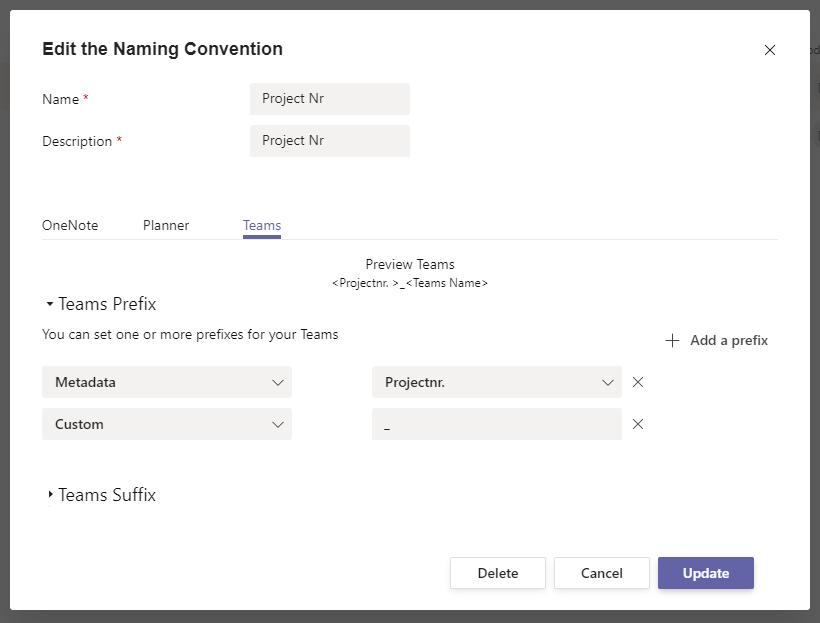 3. Data waste from teams that are no longer needed
Without clear guidelines for archiving or deletion, old or no longer needed teams can lead to data waste. Automated lifecycles can help by automatically archiving or deleting inactive or closed teams.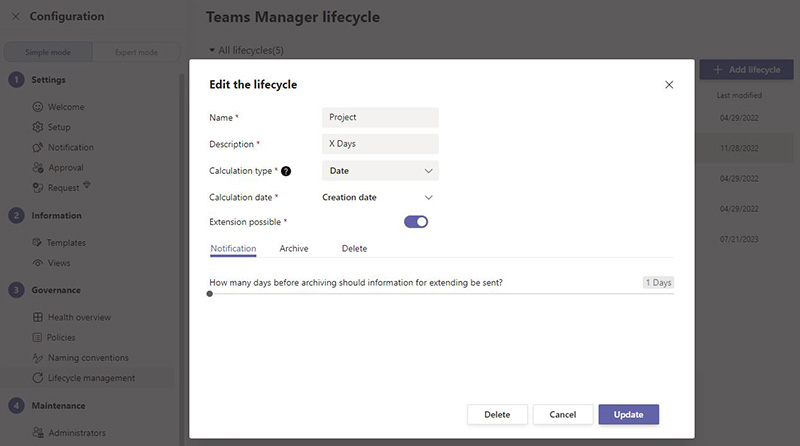 4. Manual creation of teams
Manually creating teams and then adding channels, apps, and folder structures can be time-consuming. Pre-built Teams templates can automate this process and provide a consistent structure.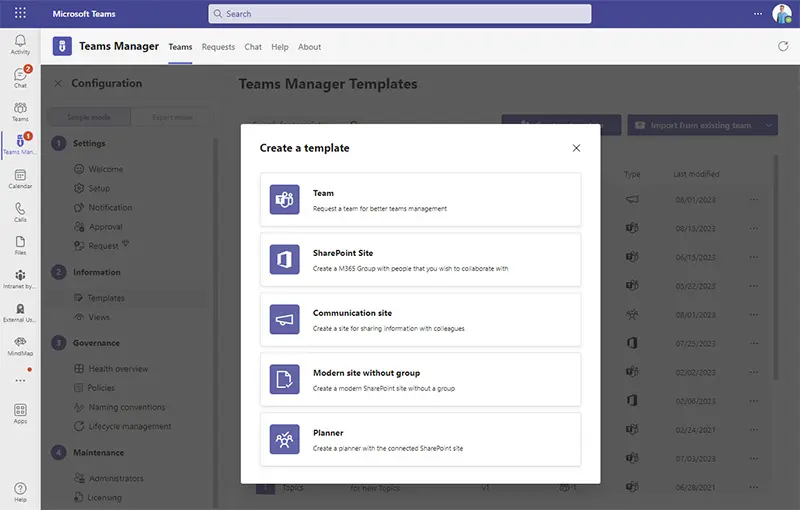 5. Training and introduction to the use of Microsoft Teams
A common mistake when introducing MS Teams into a company is the lack of targeted training. It's not enough to implement Teams and expect the workforce to immediately know how to get the most out of it. Internal training for users is essential to ensure that all employees successfully master the first steps with Microsoft Teams. Microsoft support or a certified Microsoft partner can also be helpful here. They often offer specialized training courses to help companies use Teams effectively.
6. Microsoft Teams as an integral part of Microsoft 365
Many companies overlook the fact that Microsoft Teams is not just an isolated tool, but is closely linked to the entire Microsoft 365 portfolio. This can lead to duplicate workflows and inefficient usage. It's important to see Teams as part of the overall Microsoft 365 ecosystem. Training should not only cover the functions of Teams, but also how it interacts with SharePoint, OneDrive and Microsoft Stream, for example.
7. Communication and meetings with Teams
Although Microsoft Teams is a comprehensive platform for communication and meetings, many companies only use a fraction of its functions. A common mistake is using chat exclusively while neglecting meeting, video calling, and collaborative document editing features. Companies should offer regular training and workshops to ensure that all employees are familiar with the diverse functions of MS Teams.

8. Structured use of Teams in the company
Another common mistake when adopting Microsoft Teams is the unstructured creation of teams and channels, which can lead to chaos and loss of information. A clear structure and guidelines for creating teams and channels are essential.
FAQ on implementing Microsoft Teams in an organization
What are naming conventions and why are they important?
Naming conventions are standardized naming systems for teams. They ensure order and make it easier to find teams.
How do I avoid proliferation in Microsoft Teams?
Through clear archiving and deletion policies and the use of automated lifecycles, teams that are no longer needed can be removed.
Why should I use templates to create teams?
Templates automate the creation process, save time and ensure a consistent team structure.
How do I ensure structured use of Teams in the company?
Having clear guidelines and structures for creating teams and channels can avoid chaos and loss of information. Automated naming conventions and lifecycles also help to keep track.
Conclusion: This is how you can successfully implement MS Teams
The successful introduction and use of Microsoft Teams in an organization requires planning, training and a clear definition of the use cases. It's not just another tool, but if used correctly, it can become a central part of a company's digitization strategy. With the right approach and support, the entire workforce can work more efficienty thanks to the benefits that Teams offers.
Structured Microsoft Teams implementation with Teams Manager
Introducing Microsoft Teams into an organization can be challenging, especially when it comes to ensuring structure and governance. This is where Teams Manager comes into play to support you with the structured implementation and management of Microsoft Teams.
Key Features of Teams Manager:
Request and approval workflow: Structured process for creating new teams and M365 groups
Templates: Pre-built structures for consistency across teams and M365 groups
Lifecycle Management: Automated lifecycles of teams and SharePoint sites, from creation to archiving
Naming conventions: Consistent names for Teams, OneNotes, and Planners according to company policy
Metadata: Add custom metadata to teams for better organization and discoverability
Governance policies: Combination of lifecycle policies, naming rules, classifications, and sensitivity labels
Native app for Microsoft Teams: Integration and use directly within the Microsoft Teams interface
Using Teams Manager, you can ensure that your Microsoft Teams environment is well organized and structured right from the start. Get a demo now and find out how Teams Manager can specifically help you with the introduction of Teams!