Microsoft 365 Certified: Become a Teams Administrator Associate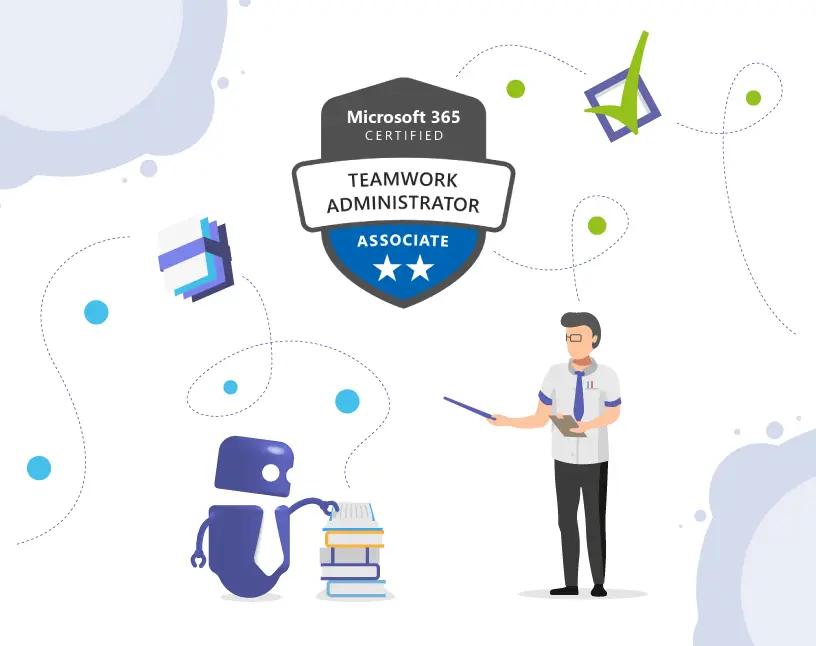 Do you want to get deeper into Microsoft Teams or get a proof of your already acquired skills? No problem: Microsoft now offers the possibility to acquire the certificate 'Teams Administrator Associate'.
We will provide you with all necessary information and links to become a 'Teams Administrator Associate' soon and receive your official Microsoft Teams administrator certification!
What is a 'Teams Administrator Associate'?
Candidates for this exam are Microsoft Teams Administrators for their organization (or the people who are implementing Teams in their organisation right now). The Microsoft Teams Administrator configures, deploys, and manages Office 365 workloads for Microsoft Teams that focus on efficient and effective collaboration and communication in an enterprise environment.
A Teams Administrator must be able to plan, deploy, and manage Teams chat, apps, channels, meetings, audio conferencing, live events, and calling. The Teams Administrator is also responsible for upgrading from Skype for Business to Teams.
The Teams Administrator collaborates with Telephony engineers to integrate advanced voice features into Microsoft Teams (but he is not responsible for configuring direct routing, call routing, or integrating telephony). The Teams Administrator may work with other workload administrator roles, including security and compliance, messaging, networking, identity, and devices.
The costs of the exam are, based on your country, about $165 US.
Which Skills do I need?
Candidates who want to get the Microsoft Teams administrator certification should be proficient at managing Teams settings by using PowerShell. A Teams Administrator has a fundamental understanding of integration points with apps and services, including but not limited to SharePoint, OneDrive for Business, Exchange, Azure AD, and Office 365 Groups and understands how to integrate external apps and services.
The Exam for your Microsoft Teams Administrator Certification consist of the following:
Plan and Configure a Microsoft Teams Environment (45-50%)
This includes the upgrade from Skype for Business to Microsoft Teams, planning and configuration of network settings for Teams, implementation of governance and lifecycle management, configuration and managing of guest access, managing security and compliance, deployment of MS Teams endpoints and monitoring and analyzing service usage.
Manage Chat, Calling and Meetings (30-35%)
This module consists of securely managing meeting experiences, phone numbers and the phone system.
Manage Teams and App Policies (20-25%)
For this part, you have to know how to implement policies for Microsoft Teams apps, how to manage membership in a team and how to manage the team itself.
How do I prepare for the Teams Administrator Associate certification?
Basically, there are two ways to prepare for the exam: the paid way with the assistance of a course created specifically for this test by Microsoft together with a learning partner, or the free-of-charge way using the learning modules provided by Microsoft.
Microsoft Teams Administrator Certification – The Paid Way
If you have little or no experience in managing Microsoft Teams, it may make sense to spend time and money to complete the 5-day course with the help of a Microsoft licensed learning partner before you have a try at the Microsoft Teams Administrator Certification. The expert you will be provided with can give you the basic information and feed you with valuable background information at the same time. Recommended for companies that are currently rolling out Microsoft Teams, but do not have the appropriate expertise within the company.
Microsoft Teams Administrator Certification – The Free-of-Charge Way
If you are already a bit more familiar with the basics of Microsoft Teams or have done the introduction in your company yourself or with some support, the learning materials provided by Microsoft free of charge should also be sufficient. These can be accessed online at Microsoft and can be found in the resources section below.
The online course consists of five modules, each of which takes about 20-40 minutes and provides you with all the information you need to successfully pass the test and thus obtain the certificate.
Resources
To obtain the certificate 'Teams Administrator Associate' the Microsoft exam 'Exam MS-700: Managing Microsoft Teams' must be successfully completed.
Here you will find a detailed list of the required skills for passing the Microsoft Teams administrator certification:
Microsoft 365 Certified: Teams Administrator Associate – Skills Measured
To follow the paid learning path, click the following link and select a Microsoft partner near you who will help you to prepare:
To complete your preparation with the free learning modules from Microsoft, click on the following link:
As soon as you are ready to take the test, you can schedule your exam under the following link:
Exam MS-700: Managing Microsoft Teams
Once you have successfully passed the exam, we are happy to congratulate you: You may now officially call yourself 'Teams Administrator Associate'!
Now that you are an official 'Teams Administrator Associate' , the Teams Manager could help you to get your Teams in order!
Book a demo with one of our experts now without any obligations!