Pieris Pharmaceuticals GmbH: Modern intranet and secure collaboration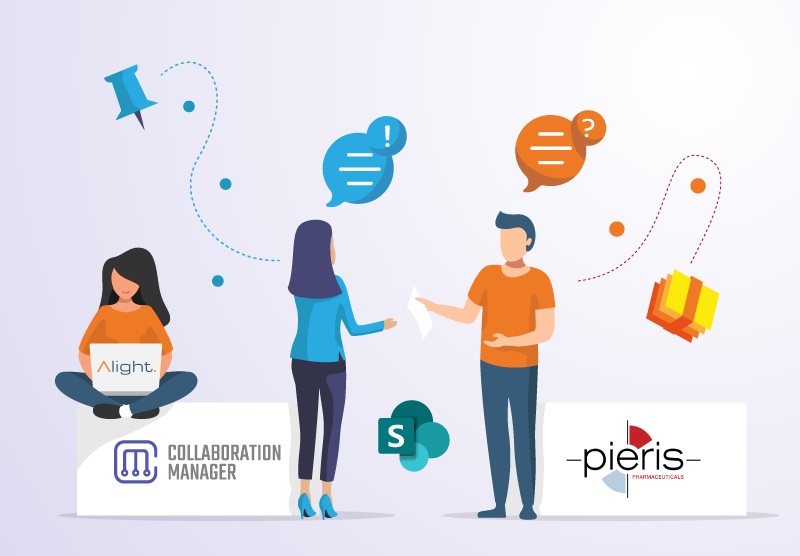 Separate filing systems, complex coordination processes, and time-consuming searches: Like many others, our customer Pieris Pharmaceuticals GmbH faced these problems.
With the introduction of the new intranet on Office 365 with SharePoint Online and Microsoft Teams in combination with the Alight Digital Workplace as well as partner solutions from Solutions2Share and Sintel, these obstacles in the daily work routine are a thing of the past.
Due to the strong growth of the biotechnology company in immunotherapy with its locations in Hallbergmoos and Boston, clear definitions and rules became necessary in internal collaboration between the different locations, and especially with the numerous business and research partners.
The Microsoft Cloud services with the possibilities of self-services for collaboration, which were already in use, offered the freedom to work together quickly. However, this left employees with too many opportunities to create their own structures, resulting in numerous information silos. It was a challenge for employees to get an overview of their tasks and appointments.
Project "Pieris Intranet and Site Provisioning"
The project "Pieris Intranat and Site Provisioning" was successfully implemented, with Alight as a service provider in the areas of conception, realization, training, and support.

"Clear guidelines and automation make our information secure. Employees are given new team rooms with the appropriate structure quickly and easily, and the workload of our IT has been reduced considerably. Alight has optimally adapted the Microsoft Cloud services to our business processes and has prepared us for the new working environment through training and support." Thomas Straßner, IT manager at Pieris
The Pieris Intranet, with its modern hub and communication sites, was realized with SharePoint Online. It offers individual areas for each department, which are displayed in the Alight Mega Menu at any time. On the intranet homepage, the most important news, current trade fairs and research events from the different departments and their published contents are displayed.
The definition of a shared vocabulary for indexing documents, meetings, and all virtual rooms represented a milestone for the clear structure and simplification of the shared filing system.
The Alight partner product Solutions2Share Collaboration Manager was used to realize template-based provisioning of Microsoft Teams and SharePoint Sites for project, alliances, and meetings, including their permissions. In addition, two further central modules were implemented by Alight: the Alight Mega Menu for structured and easily accessible navigation and the Alight Digital Workplace to support each employee in his daily work.
Each employee now has his or her own digital desk as a personal cockpit. By using taks management per group, the Digital Workplace provides a summary of all tasks, recently edited documents, essential apps, team sites, and Microsoft teams.
Under the "ME" tab, all personal documents, teams, sites, apps, and tasks are managed. The central component is a searchable task list with all aggregated, open tasks and appointments from Microsoft Planner, Outlook, and SharePoint across all teams and SharePoint rooms.
In summary, the extensive realization of the Pieris Intranet and the introduction of the Digital Workplace in 2019 was and exciting and instructive process. As nothing gets in the way of cross-location communication and secure collaboration – also with external partners – Pieris' international growth is supported.