Microsoft 365 Governance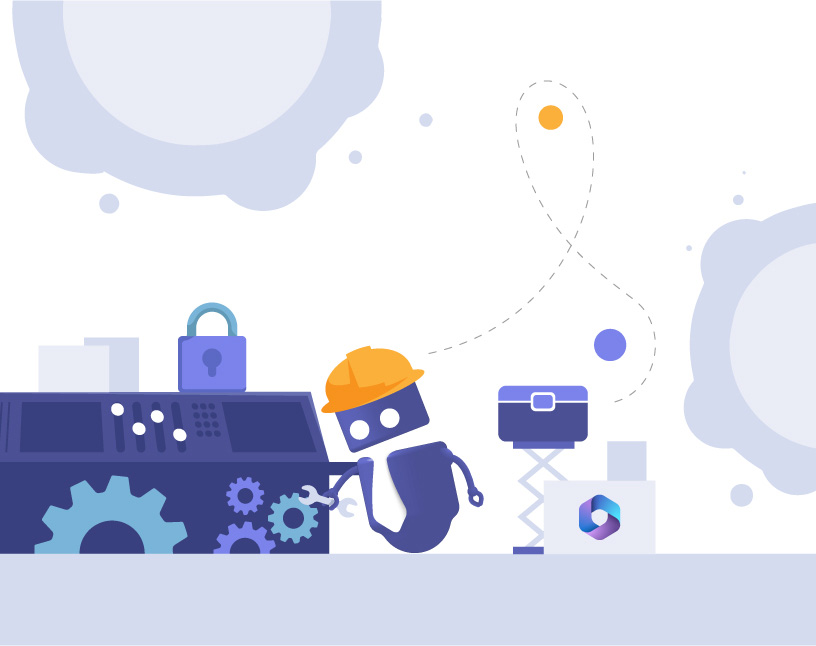 Without a solid Microsoft 365 governance strategy, organizations not only put their data at risk, but also risk compliance violations and lost employee productivity. In this article, we take a look at the different facets of Microsoft 365 governance, from incorporating third-party tools to implementing zero trust and ways to automate it.
Microsoft 365 vs. Microsoft Teams Governance
Although Microsoft 365 and Microsoft Teams are closely related, their governance differs significantly. M365 is not just a collection of productivity tools like Outlook, OneDrive, Teams and Planner, but an entire ecosystem that requires comprehensive management. Microsoft 365 governance includes managing all of these tools and services. In contrast, MS Teams is a specialized collaboration platform within Microsoft 365, and Microsoft Teams Governance focuses on the specific management of teams, channels and the content shared in teams.
Integration of Third-Party Tools
Integrating third-party tools into your Microsoft 365 governance strategy is an often-overlooked element. A well-known app for M365 Governance is Teams Manager. It not only facilitates the control and administration of Microsoft Teams, but also specifically helps with compliance and governance guidelines.
Your organization can use it to control the entire team creation process, from automating approval workflows to combining custom lifecycle settings and naming conventions, as well as creating templates and provisioning teams. Not only can inactive teams be archived or deleted, but control over the Microsoft Teams infrastructure can also be maintained and uncontrolled growth avoided.

Risk Management
Risk management is an important aspect of Microsoft 365 governance. Businesses need to be able to identify and manage risks in their Microsoft 365 environment.
On the one hand, this can be done through regular security assessments, where, for example, the following topics should be checked:
User permissions: only authorized users should be able to access certain data and applications.
Security logs: logs should be reviewed regularly for signs of security breaches or suspicious activity.
Compliance: the company should always meet all legal requirements and standards.
Important security policies that we recommend to implement include:
Encryption of data
Regular password changes
Use of sensitivity labels
For risk management control, Microsoft offers tools such as the Microsoft Secure Score, which helps companies to assess their security situation and make improvements.
Implementing Zero Trust
Zero Trust is a security model that assumes threats can come from both the outside and the inside. Therefore, no one, including internal users, should be blindly trusted. Implementing Zero Trust in Microsoft 365 requires a combination of identity and access management, network security, and data encryption. Various Microsoft tools and services can help implement Zero Trust in Microsoft 365, such as Azure Active Directory, Microsoft Defender for Endpoint, and Microsoft Information Protection.
Governance Automation
Automating recurring processes can help make the Microsoft 365 governance strategy more efficient. Specifically, user management, policy application, and reporting tasks are easy to automate, such as:
For user administration:
User creation and deletion: Automatically create and delete user accounts based on specific criteria or events, such as an employee joining or leaving the organization.
Assigning user roles and permissions: Automatically assign roles and permissions to users based on their position or department.
Password reset: Automatically reset passwords for users who have forgotten their password or whose password has expired.


For policy application:
Security Policies: Automatically apply security policies to users and devices, such as enforcing multi-factor authentication or encrypting data.
Compliance policies: Automatically apply compliance policies, such as archiving emails or storing documents in a specific location.
Device Management: Automatically apply policies to devices, such as enforcing password policies or locking devices that have been reported lost.
In reporting:
Reports: Automatically generate reports on user activity, security incidents or compliance status.
Report delivery: Automatically send reports to specific people or departments.
Monitoring and Alerts: Monitor systems and user activity and automate alerts on suspicious activity or security incidents.
Microsoft offers various tools for such automation in Microsoft 365, such as PowerShell, Microsoft Flow (Power Automate) and Azure Automation. More information about the different solutions can be found here:
Teams Manager also supports automation: it enables control of the entire team creation process, automates approval workflows, combines individual settings for lifecycles and naming conventions and enables the creation of templates and the provisioning of teams.

Reporting and Analysis
Reporting and analytics are important aspects of Microsoft 365 governance as well. Your organization needs to be able to generate detailed reports on user activity, security incidents, and compliance status. Microsoft 365 offers various reporting and analysis functions, such as the Security & Compliance Center, the Activity Report Dashboard and the Microsoft 365 Compliance Manager.
Collaboration governance in Microsoft 365
Collaboration governance is also a critical aspect of Microsoft 365 governance and relates specifically to the management of collaboration tools such as Teams, SharePoint, and others in Microsoft 365. This includes the management of Microsoft 365 groups, provisioning and naming of Teams and SharePoint sites, as well as external access from people outside your organization. Organizations should definitely create a governance plan that takes into account the roles and responsibilities of their users, the security of their data, information protection and of course the legal requirements. This plan should also account for Microsoft 365 usage, feature activation, and the rollout of new capabilities.
The Microsoft 365 Adoption Center
The Microsoft 365 Adoption Center is a tool that helps companies optimize the use of Microsoft 365 in their organization. It provides resources and best practices for adopting Microsoft 365 and improving digital collaboration. Organizations can use the Adoption Center to plan Microsoft 365 adoption, improve collaboration governance, and thereby better achieve their business goals.
The Future of Microsoft 365 Governance
It is highly likely that Microsoft 365 governance will evolve over the next few years. With the proliferation of cloud services and the increasing number of cyber attacks, the importance of Microsoft 365 governance will continue to grow.
The ongoing development of artificial intelligence (AI) will also have a significant impact on the governance of Microsoft 365.
In a positive sense, AI can help to make governance strategies more successful – e.g. by recognizing patterns in large amounts of data, identifying anomalies or making automated decisions.
Microsoft is already investing heavily in developing AI capabilities for Microsoft 365. For example, Microsoft uses AI to detect spam and malware in emails, offer automatic translations, and recommend relevant documents and information.
However, the use of AI also entails risks, particularly in relation to data protection and decision-making.
Additional Resources on Microsoft 365 Governance
On Microsoft Learn you will find an extensive training on the topic of Microsoft 365 Governance. Here you will learn about the core services of Microsoft 365, the elements of the Microsoft Policy Framework, the Microsoft Security Policy and the associated standards, requirements and procedures. You will also learn more about the Microsoft 365 Information Security Policy and the Microsoft Security and Standards program.
Check out how Teams Manager can help with Microsoft 365 governance: