Onboarding Guests in Microsoft Teams and M365 Groups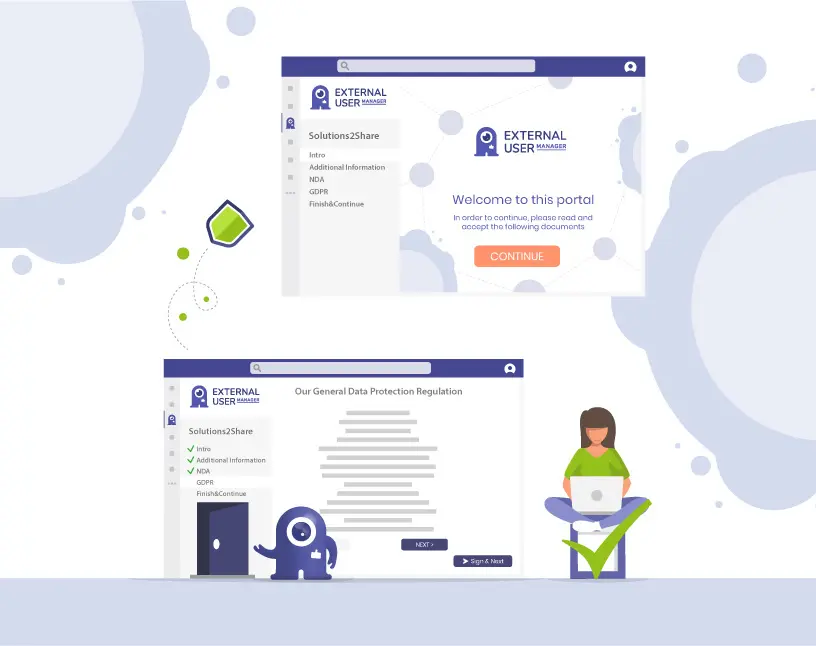 Inviting guests in Microsoft Teams is really easy – you simply add them to your teams. (Check out our blog post on how to add guests in Microsoft Teams.) On a technical level, Microsoft Teams guest access makes working with externals in M365 very smooth and straightforward.
How to improve the onboarding process with Microsoft Teams
From a security and compliance perspective, however, adding guests to MS Teams poses difficult questions:
How to onboard guests in Microsoft Teams and Microsoft 365 groups?
How to provide them with guidelines on how to behave, and integrate them in the team?
Is there a way to let them agree to your terms and conditions?
Is your data secure?
Should guests sign a non-disclosure agreement – and if so, who will take responsibility for this task?
Do you need to organize a meeting to explain the set-up of your channel, each tab and Planner, and the overall structure?
What are the best practices for an onboarding process with Microsoft Teams?
In large companies, the communication department might engage the guests and provide an instruction, just as they would with a new employee or team member. However, not every company has the resources for such a process.
This is why we created an automated solution to improve the guest experience for external users and streamline the onboarding.

Onboarding guests in Microsoft Teams with External User Manager's onboarding portal
In External User Manager's settings you can decide how you are going to invite somebody and what kind of information people need to consume before their account is created in your tenant.
In the out-of-the-box process, guests will receive a welcome email after being invited. With EUM, you can customize the text of this invitation: simply go to the settings menu of EUM and create customized invitation emails for guests.
Then move to the onboarding portal to implement your company logo and create metadata fields to ask your guest for additional information during the onboarding.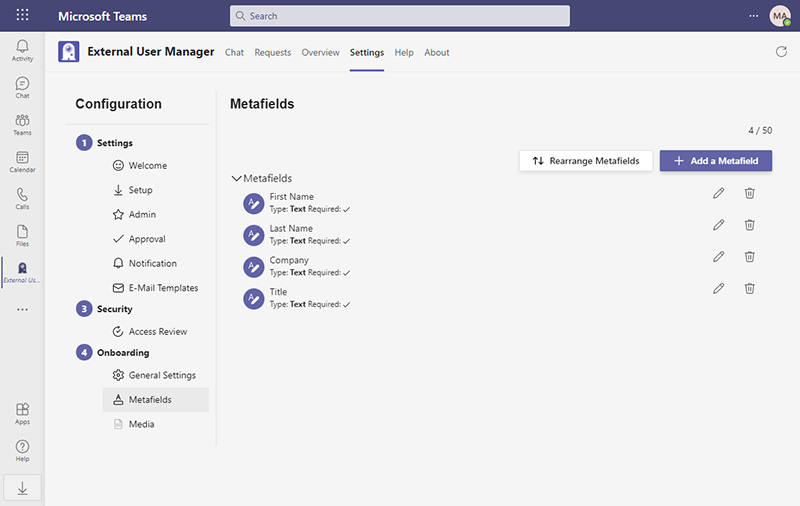 Last but not least, upload the documents you want the new guest to read and/or sign to complete the experience, such as guidelines, terms & conditions, NDAs etc. This is also an opportunity to provide training materials for specific topics, if needed.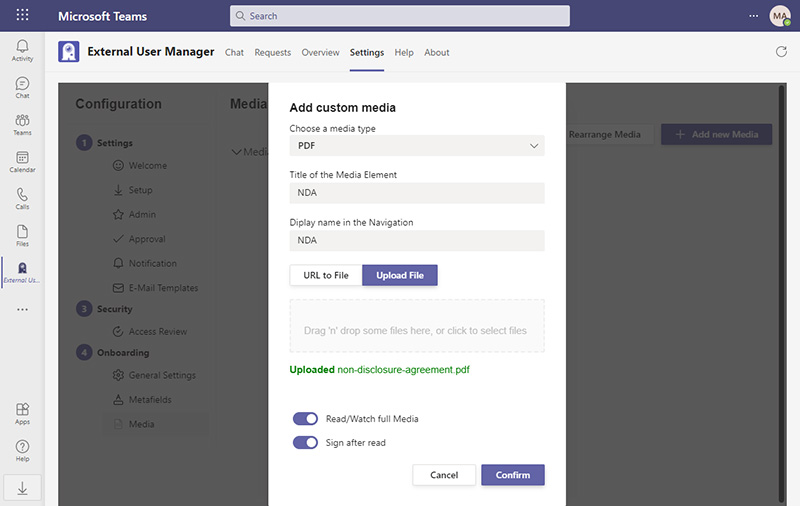 Here you can see how easy it is to set up the onboarding process:
In case you add new documents later, you can restart the onboarding process for your existing guests.
Your compliance officer will especially like the option to download signed documents at any time later for verification purposes.
The onboarding process from the guest's point of view
Your guest will now experience a fully customized onboarding that is aligned with your security, compliance and company standards.
It could look like this:
External User Manager helps you change a bureaucratic process into automated onboarding sessions, making it easy for guests to join a team in Microsoft Teams. The process of onboarding new guests to a team can be difficult, especially when it involves sensitive data and mandatory documents. External User Manager for Microsoft Teams makes it easy for guests to join a team by automating the process and providing them with all the information they need.


External User Manager is available in the Microsoft Teams app store. Download it now for a free trial or contact us for a personal demo!