Zoom vs Teams: Which video conferencing and collaboration service is the best?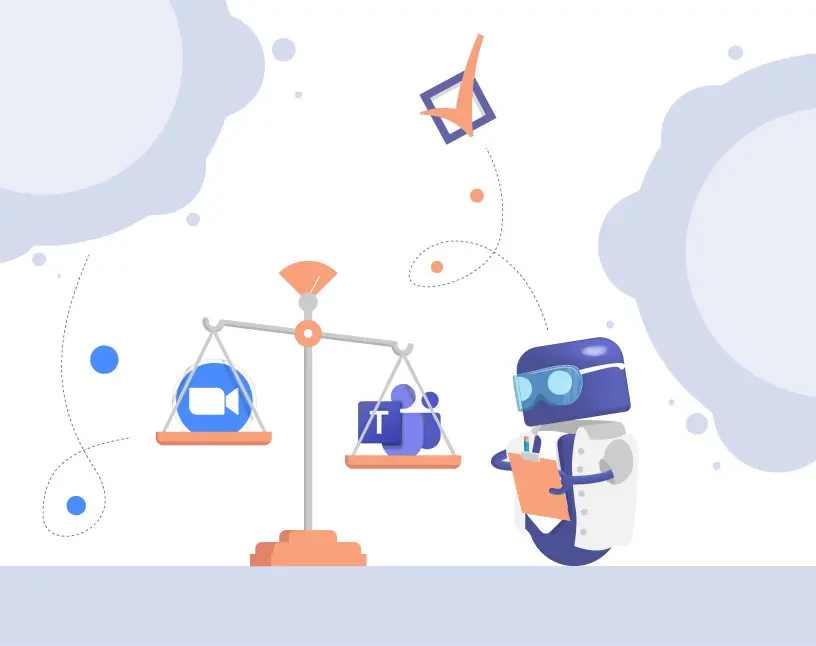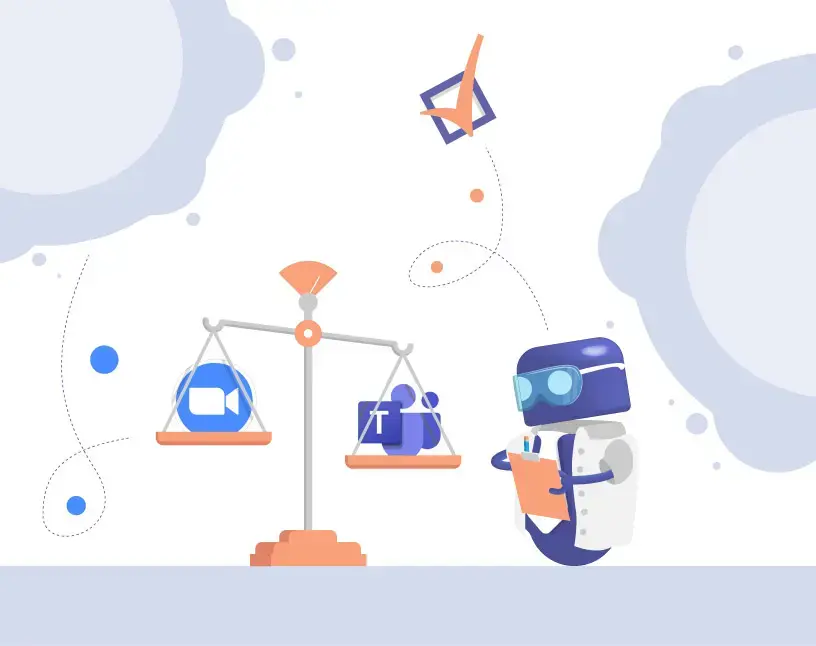 Microsoft Teams and Zoom are the two big tools on the market when it comes to communication and online meetings. Due to the Covid-19 pandemic, starting in 2020, more work shifted to remote and home office, and remote meeting and online collaboration software became necessary. Countless companies made a decision in recent years: Zoom vs. Teams. But what advantages does Microsoft Teams offer, and where does Zoom come out on top? How do the prices differ? Are there different application areas for Teams vs. Zoom? We'll go into this in detail in this blog article and offer you some help in deciding.
The advantages and disadvantages of Zoom and Teams at a glance
Comparing Microsoft Teams vs. Zoom is not easy. In many ways, both tools are similar, although Microsoft Teams presents itself as a comprehensive collaboration tool, while Zoom acts more as a tool for video conferencing.
So here we will first briefly introduce the most important features:
Meetings
Webinars
Chat and reactions
Screen sharing
Telephony
Interaction like polls, whiteboards
Document management
Apps and addons
Content
A brief introduction to Zoom and Microsoft Teams
Let's start with a brief overview of the two tools. Both Zoom and Microsoft Teams are listed among the leading vendors worldwide in Gartner's 2021 report for Unified Communications as a Service: https://explore.zoom.us/de/gartner-ucaas/
What is Zoom?
Zoom started in 2013 as a video conferencing software and has since evolved into a complete enterprise communications solution. In the wake of the Covid-19 pandemic, its user base multiplied, from 10 million daily meeting participants at the end of 2019 to over 300 million in April 2020.
As of July 2021, Zoom had a 40.7 percent market share in the video and audio conferencing systems segment. (Microsoft Teams is not listed in this market segment).
What is Microsoft Teams?
Microsoft Teams is still relatively new, having just entered the market in 2017. Teams is part of the Microsoft 365 package and is a comprehensive collaboration software and tool for UCaaS (Unified Communication as a Service). Microsoft Teams also grew significantly due to the impact of Covid-19, with 145 million daily users in April 2021.
In 2020, Microsoft Teams' market share in the unified communications and collaboration segment was about 34 percent. (Zoom is not listed in this market segment).
In mid-2021, Skype for Business (formerly "Lync") merged into Microsoft Teams, and all features can now be used in Teams.
Zoom or Teams – a comparison
Our comparison of Zoom and Microsoft Teams should give you all the information you need to make a decision between Teams or Zoom. So let's start with the most obvious: the user interface.
Both providers are experts when it comes to user experience (UX). Zoom in particular is often praised for its intuitive, easy-to-use interface. MS Teams, unlike Zoom, offers more features within a single interface, making it a bit more complicated to get started.

In Microsoft Teams, the home screen consists of the central navigation bar on the left edge, which users can use to access the following functions:
Activity feed
Chat
Teams list
Calendar
Calls (if Teams is used with telephony plans)
Files
(Third-party apps)
Appstore
Help and support
The most important area here is the Teams list, where users can access all their teams and channels. For each channel there is a separate post feed with discussion threads for each post. Tabs in each channel give access to files shared there, notes and additionally added apps and addons.
The most important Zoom functions at a glance
Although Zoom started out as a pure videoconferencing tool for remote meetings, it has evolved a lot, especially in recent years during the Corona virus pandemic. It can definitely keep up with Microsoft Teams in terms of functionality.
Nevertheless, the fundamentally different orientation of the two tools should be kept in mind when making a comparison.
Zoom Meeting function
Zoom Meetings and video conferences are probably its most well-known function. Up to 1,000 participants in the paid version or up to 100 participants in the free version can take part in a meeting, and up to 49 videos can be displayed simultaneously. Scheduling and inviting attendees is possible through Outlook as well as Gmail and iCal. Participation in Zoom meetings is possible with any device, whether phone, smartphone app, PC or Mac.
Zoom especially scores points for collaboration within meetings: multiple participants can share their screen in parallel. Emoji reactions, video filters and integrated polls provide more interactivity. By default, Zoom always shows the video of the current speaker in presentation mode; but there's also an option to "pin" another participant's video to always show it in the foreground.
Recordings of the video conferences are possible as well as automatic transcripts.
With so-called "breakout rooms", a meeting can be divided into up to 50 smaller groups. Participants can be distributed to these rooms automatically or manually, or they can select a desired breakout room.
Zoom Chat & Reaction function
Zoom offers individual and group chats with social reactions such as likes and emojis. File sharing is also available. Users can start calls or meetings with participating people directly from the chat. A calendar integration shows the current status of the people in the team.
Zoom Webinar function
With up to 50,000 participants, Zoom webinars are suitable for presentations to large groups, with prior registration of participants. Organizers can send automatic reminder emails in their own design to registered participants.
Live streams to platforms such as Youtube or Facebook are also possible. The chat and question-and-answer area provide interaction during the webinar. Requests to speak as well as polls are directly integrated. Organizers can make any participant a presenter and give them the stage.
In contrast to Zoom meetings, there are no breakout rooms in webinars. Participants in a webinar basically attend in a "listen-only" mode.
Screen sharing and whiteboard function in Zoom
In Zoom Meetings, not only one participant can share the screen, but several can do so in parallel and simultaneously. Participants via iPad or iPhone can also share their screen.
As another feature for collaboration in meetings and outside, there is a whiteboard to capture, comment and share ideas and notes with other users.
Zoom's security settings
Since the time when Zoom was criticized for its weak security and privacy system, things have changed a lot. Now Zoom also offers encrypted communication, role-based permissions, multi-factor authentication, domain management for approved users and more.
Telephony in Zoom
Zoom telephony is an option for businesses looking to move their phone system to the cloud. Custom phone numbers, flat rates for unlimited calls, and other features are available.
Additional apps and addons for Zoom
Zoom browser extensions
Users can either install Zoom on their own device or use it online as a browser extension. Additionally, there is a selection of other browser addons for scheduling and improving user experience.
Zoom Outlook plugin
For scheduling meetings within a Microsoft environment, there is the Zoom Outlook plugin. This allows users to convert normal meetings to Zoom meetings and start spontaneous meetings directly in Zoom. Information about a user's free and booked times is also retrieved via this plugin.
Zoom app downloads
Similar to MS Teams, Zoom app downloads can be used to add features to Zoom or integrate other programs and providers. There are over 1,500 third-party apps available for download in the Zoom Marketplace.


The most important Microsoft Teams features at a glance
Chat and video calls in Teams
The Microsoft Teams chat feature is one of the most used features. It allows topic-based discussion threads, where responses are always under a post. Social reactions such as likes or hearts increase team interaction. Users can 'mention' colleagues (via @mention), which sends them a notification that a response is needed from them.
Video telephony in Microsoft Teams makes it possible to reach any colleague quickly. External contacts can also start a video call with one click via special links.
In addition, Microsoft Teams also offers the ability to schedule and conduct internal and external meetings with up to 20,000 participants, in tight integration with the Outlook calendar.
The activity feed in Teams
For every activity that affects a user, Microsoft Teams sends them a notification. The activity feed contains, for example, information on new reactions, replies to own contributions, missed calls or mentions.
Document Management in the Microsoft Cloud
Another important feature is document management in Microsoft Teams and the joint editing of files. Behind the file storage in MS Teams are SharePoint document libraries with all their functions such as permission management etc.
Users can share files in the associated channel in Microsoft Teams and edit them together with others. There is a folder structure for file storage as well as the option to move, rename or download files. Frequently used files or folders can be synchronized with the user's own OneDrive so that they can be accessed quickly via Windows Explorer.
Microsoft Teams security settings
Behind MS Teams is Microsoft's enormous cyber security budget. Accordingly, there are numerous setting options for each area and level to make the Teams environment more secure.
Among the most important components are multi-factor authentication (MFA or 2FA) and conditional access protocols, which ensure that only users from your own organization have access to Microsoft Teams.
Advanced Threat Protection scans documents for dangerous content.
Data Loss Prevention lets you create data loss prevention policies that prevent sensitive information from being accidentally shared with outside parties.
In addition, Microsoft Teams provides the ability to create policies for app usage and interaction with guest users.
Check out this blog post for more information on Microsoft Teams security settings.
Webinars in Microsoft Teams
Another feature of Microsoft Teams is webinars, which are designed to accommodate up to 1,000 participants. Unlike normal meetings and live events, you can choose to have participants register in advance.
In addition, the roles are clearly divided between presenters and participants. In Microsoft Teams webinars, there is a question-and-answer section as an interaction option for the participants, which the organizers can moderate.
Live Events in Microsoft Teams
Live events in Microsoft Teams are suitable for large events with up to 20,000 participants. Here, a date can be set in advance and producers and moderators invited. During the live event itself, there are more extensive options than with a webinar or meeting. For example, producers decide what content is shared on screen – regardless of who is sharing it.
There is a question-and-answer chat that attendees can use to request information. In addition, unlike meetings, live events are not designed for interactivity.
Following the event, Microsoft Teams automatically generates a recording that can be shared with attendees.
Apps / add-ons in Microsoft Teams
Microsoft Teams offers its own app store for apps or add-ons, both from Microsoft itself (e.g. Microsoft Planner, Microsoft OneNote) and from numerous third-party providers. From surveys to video integration and task scheduling to social components, you'll find something for every use case.
Telephony in Microsoft Teams
As one of the leading providers of UCaaS ("Unified Communication as a Service"), the telephony system is also one of the most important functions in Microsoft Teams. As with Zoom, a purely cloud-based VoIP system can be implemented as well as a PSTN system with its own landline numbers.
Subscriptions and pricing: Zoom vs. Teams
When comparing Zoom / Teams, it's important to note that both Microsoft Teams and Zoom offer free basic versions for individuals and businesses. These include trimmed-down features.

Microsoft Teams free version:
meetings up to 60 min.
up to 100 participants in meetings
5 GB of storage per user
chat
file sharing
tasks
polls
data encryption
web versions of Word, Excel and PowerPoint
max. 100 users
For companies, the paid version of Teams, Microsoft Teams Essentials, starts at 3.40 € / user / month:
meetings up to 30 hrs.
up to 300 participants in meetings
10 GB storage space per user
support
max. 300 users
Furthermore there is the Microsoft 365 Business Basic variant for 5.10 € / user / month:
recording and transcription of meetings
Office apps on the web and on the smartphone
1 TB storage space per user
email for business
Default Security (a standard security package)
guest access for external users (for more information, see here how to add external contact to Teams)
administration tools to manage users and apps
max. 300 users
The Microsoft 365 Business Standard variant for 10.50 € / user / month:
desktop versions of the Office apps
webinars incl. participant registration and reports
management of online bookings
max. 300 users
The Microsoft 365 Business Premium variant for 18.60 € / user / month additionally includes:
extended security options
access and data control
protection against cyber threats
The telephony plans for Microsoft Teams cost an additional €16.90 / user / month for cloud-based telephony or €53.70 / user / month in the Microsoft 365 E5 license for landline telephony, audio conferencing, Windows 11 Enterprise license and enterprise apps.
Microsoft Teams contracts run as monthly or annual subscriptions, which can be cancelled monthly or annually accordingly.
For Zoom, the issue of pricing is a bit more complicated, as here you can additionally choose between several packages per function package such as Meetings, Phone, Webinar, etc.
The following Zoom functions are free of charge:
meetings up to 40 min.
up to 100 participants in meetings
chat
Zoom Meetings Pro for 13.90 € / user / month:
meetings up to 30 hours
up to 100 participants in meetings (additional purchase of a participant extension possible for 558 € / year, then 1,000 participants)
social media streaming
1 GB of storage space for meeting recordings per user
Zoom Meetings Business for 18.99 € / user / month:
up to 300 participants in meetings (participant extension for 558 € / year can be purchased, then 1,000 participants)
single sign-on
transcriptions
branding
minimum 10 to maximum 99 licenses
Zoom Enterprise for 18.59 € / user / month:
up to 500 meeting participants
unlimited cloud storage
minimum 50 licenses
Zoom Webinar for 74 € / license / month :
up to 500 participants
up to 30 hours duration
reports and export functions
live streaming
registration
Zoom Events for 92 € / license / month:
webinar features plus
event management solution
multiple sessions and tracks
event interface
Zoom telephony plans cost an additional €7.44 / user / month for cloud-based telephony or €18.60 / user / month for landline telephony and advanced features.
Monthly and annual subscriptions can be selected. The contract period runs accordingly; the subscription can be cancelled monthly or annually.
Since prices and subscription plans change frequently, please refer to the vendors' websites for always up-to-date information for Zoom/Teams comparison:
Zoom and Teams data protection in comparison
Microsoft Teams and Zoom have embraced data protection under the GDPR and offer a contractual addendum for data processing.
For a large part of the data that Zoom stores or processes, one can choose a storage location; however, certain categories of data are processed exclusively in the USA. There is sporadic criticism, e.g., the German data protection commissioner for the city state of Hamburg warned the local Senate Chancellery against its use; they are especially critical of the recording of video conferences and storage in the cloud. The Senate Chancellery, on the other hand, did not recognize any violation and continues to use Zoom.
Microsoft Teams, or Microsoft in general, offers the flexible choice of storage location for data. In 2021, this also did not yet apply to all data categories, specifically user data was still transferred to the USA. However, Microsoft announced that it would expand its European data centers and store all data within the EU without exception in the future.
Since this topic is very complex and constantly changing, you can find more information directly from the providers here:
The Zoom and Microsoft Teams product roadmap
As of this writing, the Microsoft 365 roadmap for Microsoft Teams includes 466 updates for planned and newly released features.
Planned features for Microsoft Teams include live transcriptions or live captions for meetings, video filters, local time for user profiles, Power Automate actions and more.
Zoom does not offer a constantly updated detailed roadmap like Teams, but releases its general plans periodically. Key new Zoom features here include Zoom Events and Zoom Video Engagement Center for customer service applications. The company also plans to expand its UCaaS (Unified Communication as a Service) business in the future.
Zoom or Teams? A decision aid
After all this information, the question arises, is there any help in deciding which tool should be used in the company? First of all, if you want to push online meetings or video conferencing, remote work with collaborative work on shared documents or Unified Communication as a Service at your company, Microsoft Teams and Zoom represent the most comprehensive solutions.
Using Microsoft Teams is a good idea if your organization is using other Microsoft 365 products, since the structures and familiarity with administration are already in place.
If an organization is starting from scratch with building and integrating tools, Zoom is a real alternative.
Other MS Teams advantages are the numerous features that Microsoft Teams, as an all-in-one tool, includes even in its low-cost variants. Zoom advantages, on the other hand, are its specialized products for individual application areas (one variant for meetings / video conferences, another for webinars).
Basically, of course, a thorough comparison of the different prices is also recommended.
Finally, there is the option of integrating Zoom with Microsoft Teams. This linking of the two systems makes it possible to start a Zoom meeting immediately from Teams and to display Teams meetings in the Zoom calendar.
The alternative to Zoom: Microsoft Teams as a collaboration tool for your company
Microsoft Teams' advantages are the numerous other Microsoft products, some of which are integrated as standard. In addition, companies benefit from Microsoft's comprehensive cyber security measures. Microsoft Teams was intended from the start as a UCaaS tool and therefore includes all functions by default.
Comparison of Zoom and Microsoft Teams
In the blog article above, you'll find a detailed comparison of Microsoft Teams and Zoom features. Based on this information, you should now be able to make an informed decision on which of the two tools to choose.
Price comparison of Zoom and Teams
Likewise, you now know the different price tiers and subscription options for Teams and Zoom and can compare them.
Decision for Zoom or Microsoft Teams
In general, you should now have all the relevant information about Microsoft Teams and Zoom that you need to make a decision.
Ask yourself these questions about Zoom and MS Teams
What are Zoom and Teams?
Zoom is primarily a video conferencing platform that has expanded to include webinars, events, and telephony since 2021. Microsoft Teams is an all-in-one tool for collaboration and "Unified Communication as a Service" (UCaaS).
Are Teams and Zoom the same thing?
No: Even though the feature sets of Microsoft Teams and Zoom are now very similar, the tools are from different vendors and have a different focus.
Which is better, Zoom or Teams?
There is no clear winner when comparing Zoom and Teams. Both tools have pros and cons, different price points and models, and are suited for different uses. More information and details can be found in our detailed blog post above.
What is the advantage of Zoom?
Users mainly praise Zoom's intuitive interface and user experience. Microsoft Teams' numerous features make getting started with it more complex at first, while Zoom's streamlined focus on just a few features (video conferencing and chat in the standard version) makes it a low barrier to entry.
Is Zoom compatible with Teams?
Yes, Zoom is indeed compatible with Teams. There is a Zoom app for Microsoft Teams, through which the two systems can be combined.
How much does Teams cost?
The least expensive version of Microsoft Teams is free. The paid versions start at €3.40 / user / month. More details on the different price tiers can be found at the top of the blog article.
Your next step
We hope you can now make a confident decision about Microsoft Teams or Zoom with this information.
The next step is to implement the chosen tool in your organization.
When implementing Microsoft Teams, there are a few issues that you should be aware of from the beginning in order to avoid any uncontrolled growth later on. Benefit from our many years of experience and learn how to set up Microsoft Teams with structure in our workshops or online courses.