Alternatives to Valo Teamwork – switch now and save 20%!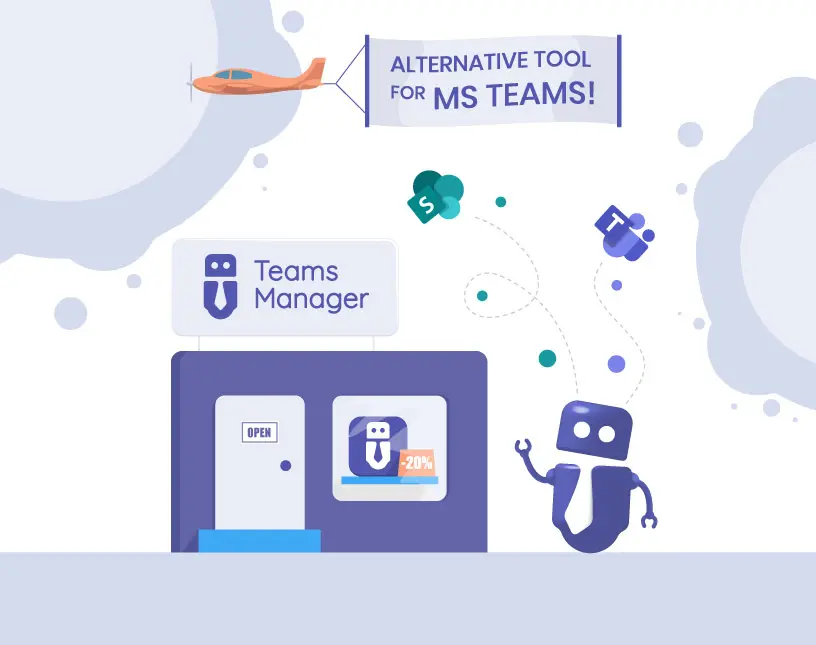 Looking for alternatives to Valo Teamwork to keep your Microsoft Teams environment under control?
Teams Manager from Solutions2Share is the best way to replace Valo Teamwork (also known as Staffbase Teamwork). In 2023, you will also receive a 20% discount as a switching bonus!
13 years of expertise
Governance solutions made in Germany
40,000 installations and 1.5 million users worldwide
G2 High Performer Award
"Since the integration of Teams Manager into our Teams client, which allows us to create teams from templates, we finally have a fixed and strict process to manage teams, while having a great overview and control over all created teams." – read full case study

Tim Baumgartl, AZO GmbH & Co. KG
Without a Microsoft Teams governance tool, you may quickly lose control of your tenant. There's a threat of…
Chaos due to hundreds of teams
Loss of time due to duplicates and uncontrolled growth
Increasing costs in IT administration
"Teams Manager offers a huge relief for us through lifecycle management. The fact that team owners can regularly decide whether a team is still needed is a good reassurance." – read case study

Katharina Schepker, AEWB
Teams Manager prevents uncontrolled growth and provides structure for Microsoft Teams!
Maintain control over Teams and M365 groups
Manage MS Teams with governance policies
Make life easy for your users and administrators with templates, approval workflows, lifecycles, and more.

"Teams Manager is the perfect complement to our governance and adoption strategy for Teams. It provides a way for us to intelligently apply naming conventions, metadata, and lifecycles to teams without a request process and maintain freedom for the teams facility for trained users."

Andreas Zinic, Freudenberg Sealing Technologies
Teams Manager as a Valo Teamwork alternative
Key Features:
Request and approval workflow for new teams and M365 groups
Templates for teams & M365 groups
Lifecycle Management
Naming conventions for Teams, OneNotes & Planner
Metadata for teams (custom)
Governance policies with lifecycles, naming rules, classifications and sensitivity labels
Native app for Microsoft Teams
Enterprise edition: Multi Geo support, SharePoint provisioning and more
"I think the Teams Manager is an ingenious tool, which covers the current gaps of O365 teams with its functions. Due to the self-explanatory user interface and detailed documentation, the Teams Manager is ready for use in a few hours."

Tim Benkel, Bechtle GmbH & Co. KG
You are convinced and want to replace Valo Teamwork with Teams Manager?
Just contact us at sales(at)solutions2share.com or book a demo!
(And don't forget to ask us about the switching discount. 😊)