Comparison: External User Manager vs Microsoft out-of-the-box features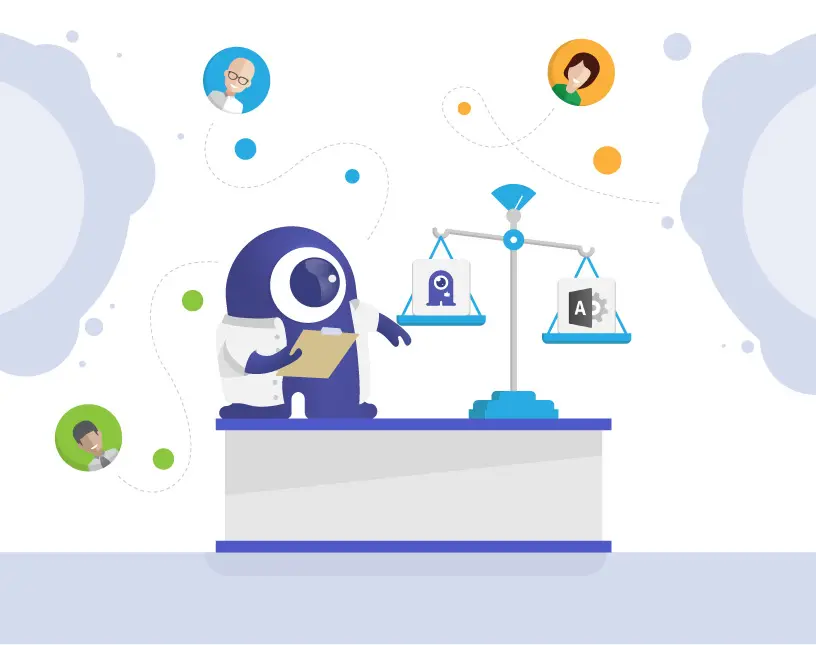 As we discussed in several other blog posts, guest access and external users, guest permissions and security are some of the most important topics when it comes to Microsoft Teams governance and Microsoft 365.
Our External User Manager specializes in helping you keep control of external guest users in your organization. Try it for free – download External User Manager in the Teams store!
We're frequently asked whether guest user governance can also be implemented with Microsoft out-of-the-box features alone. In this blog post, let's take a look at what Microsoft's OOTB features can and can't do on their own and where it makes sense to implement a third-party tool for a more secure environment.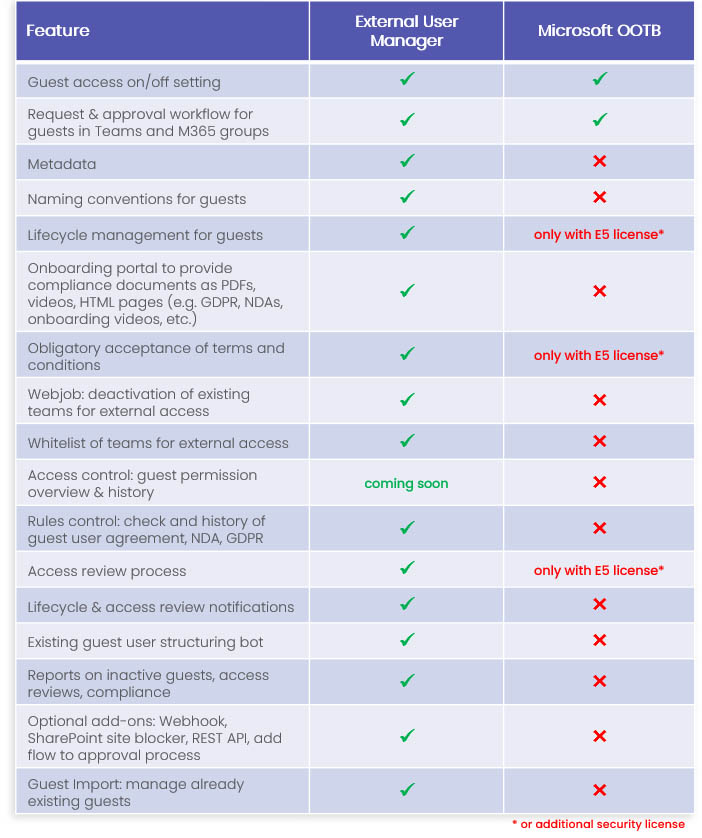 Guest User Management
First, both Microsoft and External User Manager offer the ability to activate or deactivate guest access.
The External User Manager app offers organizations an advanced solution for managing and controlling their external guests in both Microsoft Teams and Microsoft 365 groups. Unlike Microsoft, it also provides additional features like custom metadata fields and policies that allow for a more comprehensive management of guest users.
Guest User Lifecycles
One key feature of External User Manager is its advanced lifecycle management of guests, which can be based on time, specific triggers, metadata of guest users, and inactivity. With an E5 license or additional security license for Microsoft, you also get access to lifecycles based on time, while the other options are not covered at all.
Guest User Compliance
Microsoft's E5 license offers the option to have guest users accept Terms and Conditions. While this is also a feature included in External User Manager, its onboarding process for guests in Teams is much more extensive than that. It allows organizations to provide compliance documents such as NDAs, GDPR agreements, and onboarding videos in the form of PDFs, videos, or HTML pages that guests have to read or sign before they gain access to the Teams environment.

Guest User Access Control
External User Manager offers a webjob to deactivate existing teams for external access – a feature that is absent in Microsoft.
Both Microsoft and External User Manager provide basic access control features, to which External User Manager adds a more detailed overview of guest user permissions and history. External User Manager also offers rules control to check and view the history of guest user agreements, NDAs, and GDPR agreements.
Information about guest users
Team owners can access an overview of all guest users and access requests in External User Manager, just like in Microsoft. In addition, External User Manager also provides an overview of access reviews, which is not available in Microsoft.
Guest user access reviews
External User Manager offers an access review process, which is only available with an E5 license in Microsoft. Its features also include bot notifications for lifecycles and access reviews, as well as an automated bot for structuring existing guest users – features which are not available from Microsoft.
Guest user reports
Just like Microsoft, External User Manager provides reports on active guests. It also generates reportings on inactive guests, access reviews, and compliance.
Guest user customization
Lastly, there are several optional enterprise add-ons for External User Manager: a webhook implementation, a blocker for SharePoint sites, REST API, and adding flows to the guest approval process, which allow the app to be customized even further.
Import and manage already existing guests
With External User Manager, you can not only keep control of new guests but also import and manage already existing guests. You can also set this option to run periodically after a certain amount of time, thus creating a fully automated guest user management.
Microsoft's standard features do not support anything of this kind.
Overall, Microsoft offers several valuable features for managing guest users in its E5 license or additional security license. However, to set up a sophisticated guest user management and strong governance for guests in Microsoft Teams and Microsoft 365 groups, External User Manager has proven to be considerably more comprehensive and customizable.
Get a quick demo with us if you'd like to know more!