Improve internal communication with News Bot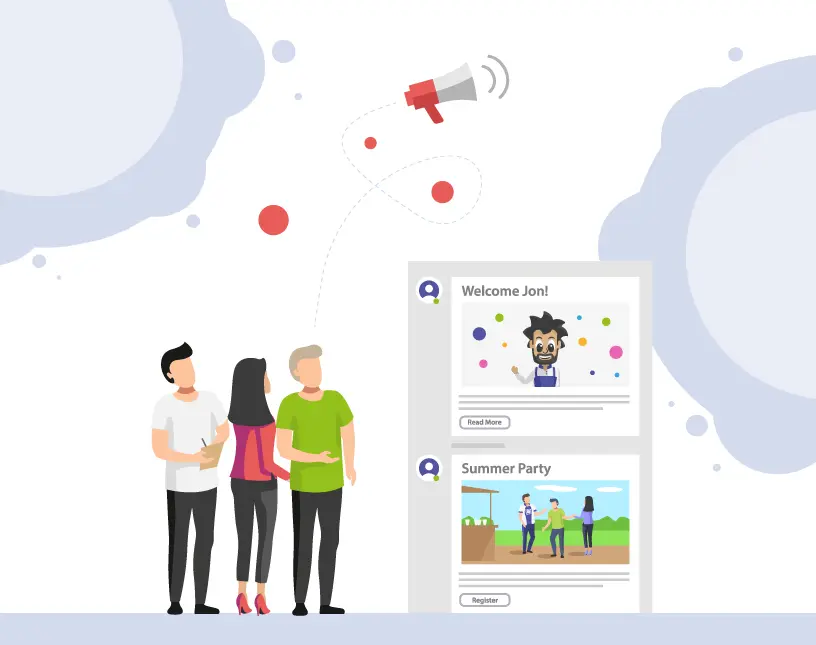 The topic of internal communication is present in every company – as the famous phrase goes, "You can't not communicate".
In companies with a dedicated Corporate Communications department, where the topic has already been thought about, channels exist to share information with employees. The most common channels are email and an intranet, and perhaps even a printed employee newspaper.
Two problems are causing headaches for management and those responsible for internal communications:
How do I reach front-line workers without regular access to computers?
How do I get important messages to all employees simultaneously and as quickly as possible?
These are the issues we want to address in this blog article. A tool that helps spread company news quickly is News Bot for Microsoft Teams, a kind of chat bot for company news.
Internal communication in the digital transformation: the current sta-tus quo of companies
Before digitalization also found its way into internal communication, there were employee newspapers, memos and bulletin boards for the distribution of news and information. Large companies also used digital signage systems, i.e. (TV) screens with pre-programmed, specially created programs and information.
These channels have not completely disappeared, of course, but have been gradually marginalized by digital methods. Emails reach employees faster and cheaper than any memo. Employee newspapers cost a lot of effort as well as money for printing and distribution and become outdated quickly – an intranet is much more efficient.
With the complete shift of work into the digital realm, along with the digital workplace, more and more new channels emerged, from central collaboration and communication platforms to internal employee apps.
In contrast, face-to-face meetings are timeless, be it at company events, conferences or one-on-one discussions.
What is internal communication?
Internal communication concerns information and exchange within an organization, in our context also employee communication.
The target group is the members of one's own organization, in contrast to external communication, which is directed at public or "foreign" target groups.
IC is not only intended to inform, but also to make internal processes more efficient, to establish a dialog between different departments as well as employees and management levels, to create motivation and to strengthen employee loyalty to the company.
Fundamental problems of internal communication
There are many mistakes that can be made when it comes to internal communication. Sending an occasional email is no longer enough in the information age.
Basically, those companies that do not communicate often enough, too late and not honestly with their employees face problems. Employees resent it when important information is withheld from them or they learn about it later from the press.
Such an atmosphere quickly develops into an "office grapevine", in which rumors and half-truths are mixed with serious information. Companies lose the opportunity to respond to criticism and give up the power of interpretation.
It is also important that all employees are informed at the same time. This is relatively easy for companies where all employees work in the office or on the computer.
However, organizations with production sites, factories, workshops or store sales find it much more difficult to reach all employees and have to diversify their channels more.
Success factors for internal communication
The guidelines for good internal company communication are: Communicate information quickly, frequently and honestly, reaching all employees simultaneously.
It's not the number of tools and channels that matter, but how they are used to communicate.
The best communication tools for companies
The various tools for internal communication can be divided into two groups – digital and "analog", i.e. printed or offline. In addition, a distinction can be made between tools for top-down communication, e.g. information from the management that is passed on "down-wards" to the employees, and interactive communication, which promotes participation and dialog.
Successful internal communication should use a good mix of tools that reflect these categories.
digital
analog, offline
top-down
Email
newsletter
Employee newspaper
Digital signage
interactive
Intranet / social intranet
Wiki
Blog
Employee app
Chat
Bulletin board
Events
(also possible digitally to a limited extent)
Email and intranet are the most popular channels in German-speaking countries. According to a study by the University of Leipzig, 74.5% and 68.9% of the organizations surveyed use these tools "often" or "very often" to distribute internal content.
Social intranets (36.7%), digital signage (30.8%), employee apps (28.6%) and other apps (20.8%) follow at a great distance.
Using MS Teams as a platform for internal corporate communication
With the launch of Microsoft Teams in 2017, some of the tasks of an intranet shifted to this collaboration and communication platform. The sharing of information in short texts or detailed documents and the dialog with employees work excellently here.
Teams is not intended for the structured presentation of company news – however, there are third-party apps that can also be used to map these functions in Teams.
Intranet by Solutions2Share, for example, integrates an existing SharePoint intranet into Microsoft Teams or offers the option of creating and editing a completely new one within Teams.
In addition, News Bot allows official company news in Teams to be created quickly with a consistent design and communicated to all employees.
News Bot from Solutions2Share as a Microsoft Teams communication tool in the company
News Bot is an important tool for internal communication within Microsoft Teams and as such well suited for corporate communications managers who want to expand their chan-nels. With this tool, news can be created and posted to multiple Teams channels simultaneously. In addition, News Bot sends push notifications and alerts directly to employees via Teams, depending on the setting and level of urgency.
What types of messages can News Bot send?
The use as a company news bot
News Bot can be used to send relevant company news to members of multiple teams. Using a simple template, you can enter a title and text, add an image and, if desired, a linked button. These news can be posted to the "General" channel of any number of teams at the same time.
Send push messages to employees
In addition, News Bot can also post the created news to employees' personal chat, providing the information even more directly. As a Teams Chat Bot, this format invites even more interaction.
Activate alarm for important news
For particularly important or urgent news, News Bot can also be used to activate an alarm for the message, which triggers a push notification.
Share news individually or as a digest
Posted news can be shared with employees individually or as a digest.
The News Bot integration in MS Teams
News Bot is an add-on to Intranet by Solutions2Share, the intranet solution for Microsoft Teams. Simply contact us and we'll send you the app for testing!
You will need administrator permissions to use News Bot – this is automatically requested during installation.
Enterprise use cases with News Bot
News Bot provides companies with a versatile tool for communicating important or urgent news as quickly as possible.
News Bot is also ideally suited as a communication tool for companies to share infor-mation in a uniform look, to obtain employee feedback on specific issues, or to announce events or dates.
The most important aspects of internal communication at a glance
In order not to let internal communication run uncoordinated over the grapevine and thus create dissatisfaction, organizations should have a well thought-out strategy for sharing information and dialog with employees.
Various tools and channels are available, and it is important to select the most suitable ones for your own company. Are all employees reachable online at all times? Then intranet and email are a good choice. Are there employees who do not work on the computer? Then 'offline' communication channels are also urgently needed.
Frequently asked questions about internal communication in companies
What is internal communication?
Internal communication refers to the exchange and sharing of information within an organization through a variety of channels. In the work environment, the term "employee communication" is also common.
How can I improve internal communication within the company?
As with most topics, it is important to constantly question oneself. Does the information reach all employees at the same time? Am I communicating frequently and clearly enough? Do I gloss over unpleasant information, or do I also pass on bad news openly? Do my employees have the opportunity to get involved, participate in the communication and give feedback?
What MS Teams tools support internal corporate communication?
Many features of Microsoft Teams are also suitable for internal communication. Posting in the feed is a great place to communicate news and get feedback.
 
The video conferencing feature in MS Teams can also be used to implement digital employee events.
 
Similarly, Microsoft Teams can (to a limited extent) take on the function of an intranet by sharing company information, document templates, etc. However, the filing structure is not as organized as in an intranet, so care should be taken.
How do I address all employees in Teams?  
With News Bot for Microsoft Teams, it's easy to simultaneously write to all employees in Microsoft Teams. If you want to inform your employees, News Bot either posts to multiple Teams channels at once or can address all employees directly in their Teams chat.
What is the News Bot from Solutions2Share?
Solutions2Share's News Bot adds yet another feature to a comprehensive internal communication strategy: the instant distribution of urgent messages to individual employees via Microsoft Teams channels and chat messages, complete with push notifications.

Of course, the News Bot app can also be used to publish messages of lesser urgency.
Get to know News Bot now
Learn how News Bot can complement and improve your corporate internal communications strategy – get a free demo now!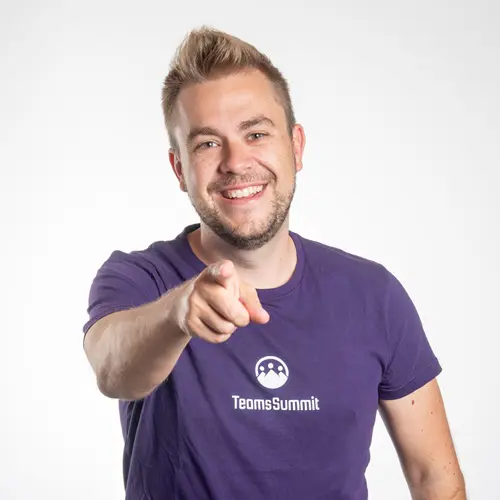 CEO at Solutions2Share – Christian Groß is a Teams Expert from the very beginning. During the last 4 years, he and his team developed 6 teams apps with over 20,000 installations worldwide, built up his own service company and also founded the largest German-speaking teams conference.